News
Otaki Today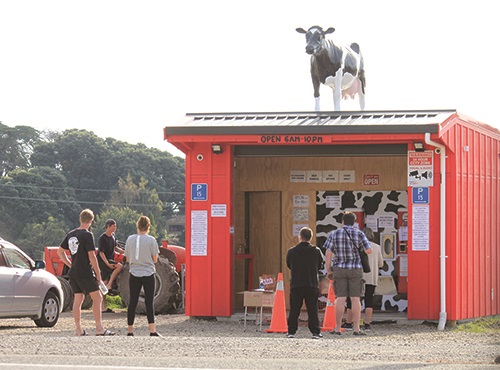 The popular Faith Fresh Milk at Te Horo remains open every day as an "essential service".
The long-established family farming business has recently been averaging sales of 350 litres a day. In the week before lockdown, the average rocketed to 450 litres a day. In the past two weeks, the popular raw milk outlet on the State Highway has run out of supply almost every day, requiring a more regular refill of the vats during the day to keep up with demand.
The self-serve store has sold more than 20,000 litres of raw milk in the last 72 days.
Stacey Faith says customers have taken on the new Covid-19 precautions with one person at a time in The Little Red Shed milk station.
"It all takes extra time but people doing their bit. We are grateful for the custom over this trying time."
Stacey is asking all customers to read and follow the signage at the store.
"There are a few more steps in place during this time to keep everyone fit and healthy. We ask people to obey the two-metre rule and only one person in the shop at a time.
"We also ask that anyone who is feeling unwell to not come to the store. "There is alcogel provided to sanitise hands before touching anything in the shop, and after customers leave."
"Please be safe, be mindful of others and be kind to each other," Stacey says.
The A2 protein milk has been available since Faiths opened the store to the public in late January.