News
Otaki Today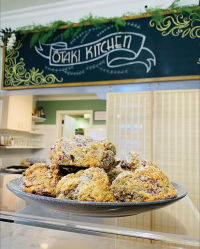 Sitting within a building nearly 140 years old, the new Ōtaki Kitchen seems not a bit out of place.
It's a contemporary café, but subtle touches, the native timber flooring and old windows acknowledge the past of the historic Family Hotel in Main Street.
The Family Hotel is the second-oldest surviving hotel in Ōtaki, having been built in 1882. The Telegraph opened in 1872.
The corner of the Family was renovated a few years ago by the previous publican, Brenda Christison, creating the Stag Café. Then last year, Kamal Rathore took over, with Keenia Verma managing the newly renamed Ōtaki Kitchen, which opened in September.
Ōtaki Kitchen aims to provide contemporary food with breakfast items such as smashed avocado and free-range poached eggs, big breakfast with herb potatoes. Manuka-smoked fishcakes, pork belly salad and home-made beef burger appear on the lunch menu.
There are plenty of vegan and vegetarian options on the seasonally changing menu, which will be expanding soon to meet the demand.
Ōtaki Kitchen is open from 9am to 3pm, Wednesday to Sunday. Keenia is also happy to take bookings for private functions or group dinners.
She's been delighted with the response from Ōtaki people and visitors, citing recent reviews:
"We love Otaki Kitchen. Great menu, generous portions and fantastic service, our go to brunch spot!"
"Had a lovely evening when we booked Otaki Kitchen for a private function. Keenia was super friendly and so very efficient and meals were also fantastic."
• Ōtaki Kitchen, Family Hotel, Main St, Ōtaki. Open 9am-3pm Wednesday-Sunday. Ph: 06-262 9119.