End of a trucking era as McLeaveys sign off
The McLeaveys have retired – at least that's the official version.
The couple, who have been part of the Ōtaki and national trucking scene for nearly 60 years, have called it a day. However, even at 80, Keith concedes he'll probably still get called to do some urgent piloting work. Wife Lorraine is used to it – she managed Cooksley Transport for several decades and got up to give Keith a cuppa every morning he had to head out on a job early, sometimes leaving at 1am.
Most of their working life they've been a part of Cooksley Transport, a company they bought in 1964 and sold in 2005, when Keith concentrated on piloting heavy vehicles throughout New Zealand.
It's been a journey that Keith concedes has had its highs and lows.
"We've had some good times, but we've had some pretty bad ones, too," he says. "We got a living out of it, but we knew it wasn't going to make us millionaires."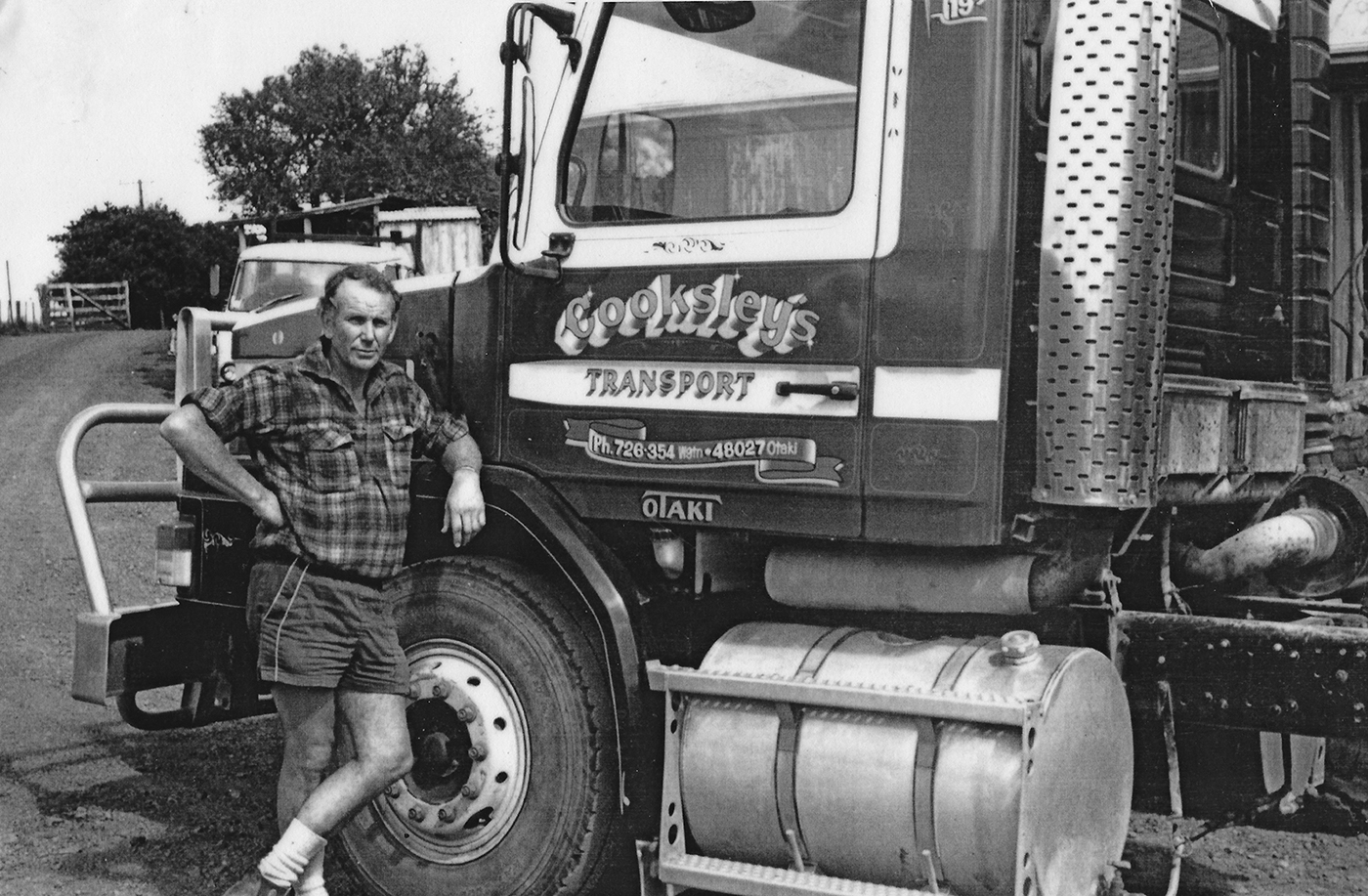 The fortunes of Cooksleys have always been linked to those of Ōtaki.
The story began in 1927 with Joe Cooksley. Joe traded in skin and hide, which he sold in Wellington. On his return trips he would often bring back parcels and supplies. He soon had a transport company.
One of his early workers was Joe McLeavey, who in 1939 bought the business. Joe's brother and Keith's father, Bernie, took over as manager.
Through the 1940s and 1950s, there was plenty of trade for the company, mainly to and from Wellington, but as towns and cities grew, so did the number of transport runs.
Ōtaki in the 1950s became a big market garden town. Cooksley's – along with fellow Ōtaki companies Edwards Transport (later Coastal Freighters) – was busy carting not only vegetables to the capital, but also general goods such as chemist supplies and beer for NZ Breweries.
Keith remembers being asked to help drive a truck to Wellington, but he didn't have a heavy truck licence.
"Dad rang up the local cop, Doug Watson," he says. "He came down and we drove around the block from the yard at Aotaki Street. I got my licence then and there."
Meanwhile, Keith began an apprenticeship as a printer at Levin Printing Works, but always had a keen
interest in Cooksley Transport.
When his father and uncle talked about selling in 1963, young Keith suggested he could run it. He got the opportunity, made a pretty good go of it and bought the business a year later.
"We only had two trucks," Keith says. "I drove one and Doug Williams drove the other one."
Towards the end of the 1980s, market gardening began to decline in Ōtaki. Cooksleys could have gone down with it, but Ōtaki mayor and entrepreneur Murray Scott had just expanded his Stresspan Industries. Its large precast concrete panels and beams were in demand throughout the country.
Cooksley's was soon tranporting for other companies, including Precision Engineering, Precast Components, Stresscrete and Riverside Developments. Along with that work came the transport of related materials and heavy machinery.
Cooksley's also carried materials for Allenson's Joinery and Richmond's Ōtaki Abattoir. When they got a contract with Tegel, Keith made a bespoke crate system for the trucks to carry chickens in an area from Whanganui through the Kāpiti Coast. Staff had to catch the chickens and load them, necessitating the crates.
Cooksley's soon had nine trucks and began specialising in over-size loads. Jobs included beams to replace the Wairoa River bridge, and materials for many buildings in Wellington and Lower Hutt, including the Michael Fowler Centre and Westpac Stadium.
Keith and Lorraine sold Cooksley Transport in 2005, when it was merged into the Hookers transport company. Hookers still use the same yard in Riverbank Road.
Since then, Keith has continued work piloting large vehicles. But as 2022 rolled around, the couple decided to foresake the early morning jobs and call it a day.
"We've had a good run," Keith says. "I don't know what else I would have done anyway."