ŌTAKI TODAY, NOVEMBER 2023
ONLINE & DIGITAL EDITION OUT NOW. Download our PDF version
Dux Hayley has eyes on engineering

Hayley Boyer is her own person, despite dad's career in the construction industry. She has sights set on completing a bachelor of engineering with honours at Waikato University, with the first year in Tauranga and then on to Hamilton. READ MORE
Te Horo keeps pushing for buses to the beach

A community in need of buses and supporting infrastructure. It's an issue that's irking more than a few residents. READ MORE
OTHER STORIES
Broadcast Rules
Broadcast only pages with modules or page types that are consistent with the purpose of this page, e.g. it might accept any types or be set for one type only, e.g. Events.

Ōtaki College Roll
A call-out by Ōtaki Today to discover which former students and staff have died in the past 60 years has revealed a list. READ MORE.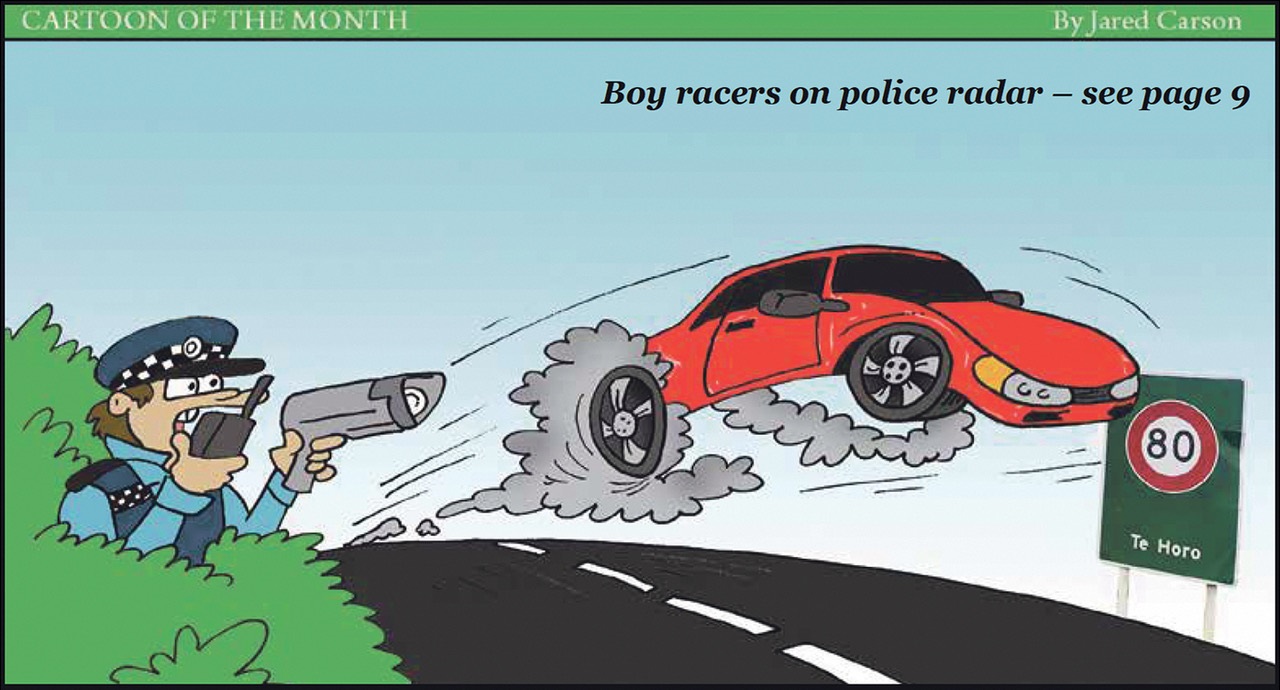 BRIEFS
Sculpture lights stolen
In late October a power box and two lights were stolen from the southern sculpture next to the Ōtaki expressway. Waka Kotahi says it is awaiting a price for repairs before having them replaced. "The expressway sculptures are an important asset for the community, and it is deeply disappointing to see them vandalised in this way," Jetesh Bhula, Waka Kotahi's regional manager infrastructure delivery told Ōtaki Today.
A Te Horo Christmas
The Te Horo Hall committee is hosting twilight drinks and nibbles (wet or fine) from 5.30pm on Friday, December 1.
Live music is by the Pretty Boys from 5.30pm, then the Kāpiti Brass Band plays Christmas carols, and the Brooklyns of Te Horo Beach from 7.30. There will be a sausage sizzle, donuts and Mr Whippy. The tennis nets will be up so bring your rackets, and other games such as petanque and french cricket on the lawn. Join in and bring your friends.
Buy a brick for the kilns
The Kilns at Te Horo is fundraising for its new arts centre, which is due to open before Christmas. People can buy a handmade brick tile for $250 which will be inscribed with the donor's name (plus logo for an additional fee). The tiles will be prominently displayed at the Kilns. The centre is an initiative that celebrates the work of internationally renowned potter Mirek Smisek. For more information, or to buy a brick, see thekilnsattehoro.co.nz
Stationhouse special
Local band The Salty Hearts is hosting the Stationhouse Social Club with a Christmas special 6.30-9pm on Thursday, December 7, at the Ōtaki Golf Club. Special guests will be New Zealand icon Dave Murphy and singer and mandolin player Janet Muggeridge. They will join The Salty Hearts for an evening of americana, blues and folk. Tickets , including 2-course meal, $50 by emailing gregandanje@xtra.co.nz
Kāpiti Chorale concert
The Kāpiti Chorale is performing "Christus Natus Est" at 3pm on Sunday, November 19, at St Paul's Church, Paraparaumu. Under the guidance of music director Eric Sidoti assistant music director Ann-Marie Stapp of Ōtaki, the programme includes a selection of classic and contemporary pieces, with the highlight Cecilia McDowall's Christus Natus Est. Tickets, $35 adults, and $15 students at Eventfinda.com, The Bookshelf Waikanae, Books & Co Ōtaki, or email tickets@kapitichorale.org.nz
Seasonal surplus stall returns
The popular seasonal surplus stall is starting again on Thursday, November 23. The stall operates outside the Memorial Hall on a Thursday every summer. It promotes community food sharing by selling fresh produce from locals who have a surplus in their own garden. There are also plants that are given away or swapped, encouraging others to try growing vegetables on their own. All money raised from a small profit for the stall is distributed locally to groups helping to feed struggling families. Locals can bring their surplus to sell to the stall or donate after 11am, with selling to the public from 11.15am. Stall volunteer Katy Horwood says newcomers to the team are always welcome. "If you feel this is something you would like to be involved with, just come along, shop, and talk to us," she says. The seasonal surplus stall is one of the longest running of several food-related community initiatives in Ōtaki – all collaborating but operating in different ways.
Two winners at Manakau
Two businesses located within a kilometre of each other on the highway at Manakau won their categories at the 2023 Electra Business and Innovation Awards in Levin on October 19. The Greenery garden centre topped the retail category; Manakau Market was judged the top shop in Horowhenua.
Fourteen fire calls
A total of 14 call-outs were made to the Ōtaki Volunteer Fire Brigade in October. Five were for rubbish, grass or scrub fires; two each for medical emergencies, supporting neighbouring brigades, and "good intent"; and one each for a property fire, attending a private fire alarm and "special services. Unusually, there were no motor vehicle crashes to attend.
Awards for Neve
Ōtaki College student Neve Jarnell was one of three Kāpiti students awarded best Work Ready Passport at the Kāpiti Work Ready awards at Southward Car Museum on October 26. She received the award for her "outstanding contribution and performance". Neve also won this year's Prime Minister's Award for Vocational Excellence, which gives her $2000. She works for a local dairy farmer after school and during the holidays. In 2024 she is returning to school and doing an agriculture programme through the Primary ITO. She intends to study animal science at Massey University in 2025.
Salon helps kids, grandparents
Benjamin Hughes Hair Salon is joining with Grandparents Raising Grandchildren (GRG) in its annual toy drive. Locals can help give 5-16 year-olds a better Christmas by donating unwrapped new toys and clothing. Items can be dropped off to the salon at the Ōtaki highway shops from November 20 to December 17. Every donation provides an entry to win a hair makeover. Benjamin says he hears many heartfelt stories from grandparents who are parenting. GRG plays a vital role in supporting these grandparents. "The decision to partner with GRG was driven by the recognition of the remarkable work they do, especially in the Kāpiti Coast are," he says.