News
Otaki Today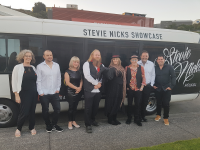 The band that was a hit at last year's Ōtaki Kite Festival has found national success with gigs lined up throughout the North Island.
Gold Dust Woman, a Stevie Nicks showcase band, has two Ōtaki area members who are a critical part of the band – "Stevie Nicks" singer Rachel Williams of Te Horo, and Jared Carson of Ōtaki, who bashes out the drums just like Mick Fleetwood.
Other band members are all from the Kāpiti and southern North Island region.
The tribute band's lineup of gigs kicks off their tour when they play at Southwards Car Museum in Paraparaumu on Saturday, February 20.
They will go from there to the Regent on Broadway in Palmerston North (April 24), Municipal Theatre in Napier (May 15) and the Carterton Event Centre (June 26), before heading north to the Bay Court Centre in Tauranga on July 31 and a huge gig at the Sky City Casino in Auckland on October 9.
The band even has its own tour bus (see at right).
Rachel Williams says she has always been a fan of Stevie Nicks. Rachel's father died when she was only 9, and she says she struggled through her early life.
"Stevie Nicks' lyrics could nurture my spirit and lift my soul," she says. "Many times I got knocked down, and I picked myself up and dusted myself off."
That inspired Rachel to call the band Gold Dust Woman, the name of one of Nicks' famed songs.
Rachel replicates the characteristic voice of Nicks to perfection, and with slick musicianship from other band members, audiences get a genuine Stevie Nicks showcase.
Jared Carson has been playing drums since the age of 13. He's played various genres supporting international bands, always with an eye towards the music of the 1970s.
He's played in several tribute acts including AC/DC, Deep Purple, Black Sabbath, The Eagles, Faith No More, Lynyrd Skynyrd, and of course, Fleetwood Mac and Stevie Nicks.
Another band member, Greg White (rhythm guitar and vocals) of Paremata has the voice of Tom Petty, providing the ideal complement in the Gold Dust Woman showcase. He and the band will play several Tom Petty hits during the show.
Greg is the son of a piano teacher, but found the guitar at the age of 12 more to his liking. His musical influences were mainly from his older brother's record collection – containing classics such as Pink Floyd, Led Zeppelin, Jethro Tull, David Bowie and Eric Clapton.
By his mid-20s he was performing full-time.
With his band The Actors he supported U2 for their Under A Blood Red Sky tour. His most recent project has been a Tom Petty celebration band, Free Falling.
Gold Dust Woman tickets at Ticketek.co.nz