Article
Otaki Today
She was born in Ōtaki, went to Ōtaki School and played for Rāhui – now she's one of New Zealand rugby's rising stars.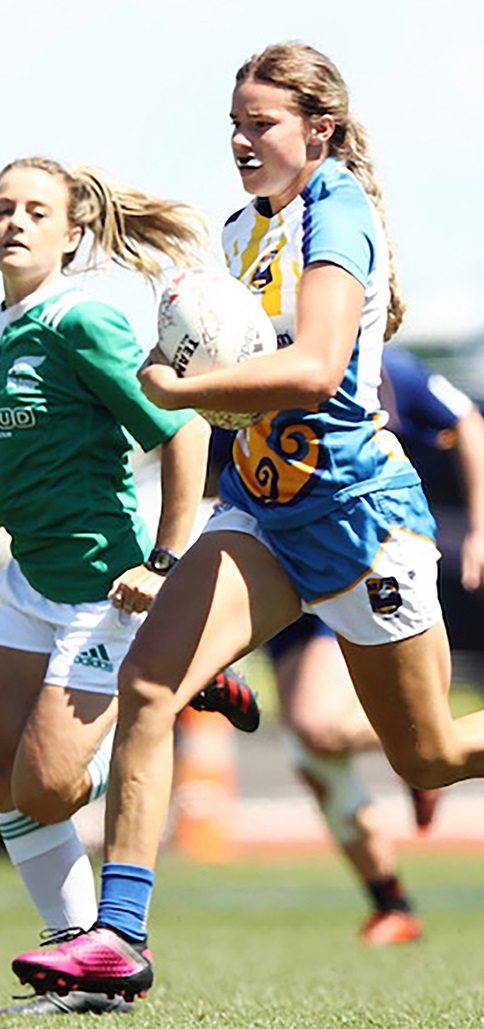 Kiki Tahere was selected early this year for the Black Ferns sevens development squad. It's already resulted in games against touring Chinese and French teams – and would have meant a trip to Japan in February to play against Japanese teams but for a shoulder injury.
Her father, James Porter, says Kiki suffered a dislocated shoulder in a tackle and needed recuperation.
"She's back training, but you can't rush things," he told Ōtaki Today. "She'll make a full recovery. It's her first injury, so she'll learn from this."
The development squad is seen as a stepping stone to the national Black Ferns team, where names such as Portia Woodman stand out on the world stage.
It prepares players with outstanding potential for the professional environment of World Series and Olympics rugby. The summer Olympics will be in Tokyo in July-August 2020.
Meantime, Kiki has an interim training contract with the development squad, and is working as an intern at the Bay of Plenty Rugby Union in Tauranga.
"The opportunity to rub shoulders with some of the best players in the world is huge," James says. "The women have to train twice as hard as the men to prove themselves, so for girls like Kiki, it's a real privilege to be around them."
Kiki has set herself a goal of being at the Olympics with the national sevens team.
"It's definitely in my sights, something to train for and work towards," she says. "The Black Ferns are a world-beating team, so there might even be a gold medal.
"Getting to this position has taken a lot of hard work and sacrifice which has been worth it. I realise now that this is only the beginning and hard work and sacrifice is an everyday thing. If I want to stand among the Black Ferns 7s and wear an Olympic gold medal then I know what I have to do"
At only 18, Kiki still has plenty of time to develop her game. Her adaptability as a utility back means she can play anywhere in the backline.
Although rugby stardom is a possibility for Kiki, James is mindful that his daughter needs to stay grounded. Remembering her whakapapa to Ōtaki is part of that.
"There's still a strong connection to Ōtaki," he says. "It's where she grew up playing rugby. As parents we love all our kids the same, Kiki is fortunate to play a game we all love so she gets a little more attention outside our home. Regardless of what she achieves on the field this will never change for us. She will always be one of the tribe and we think that's important for her to know."
Kiki played in age group sides for Ōtaki's Rāhui Rugby Club from the age of 4, moving on only when at 12 she could no longer play in mixed boys and girls teams. She then played for the Kāpiti College girls team, even though she was initially still at Ōtaki School. She later moved to the Tauranga, where she attended Te Wharekura o Mauao.
James is the manager of high performance rugby for the Bay of Plenty Rugby Union, and her mother, Michaela Tahere, is the Go for Gold central region women's manager. Her grandmother, Yvonne Tahere, is a teacher in Ōtaki School's te reo Māori full immersion classes.
Kiki's exceptional abilities were spotted when she was playing for Wellington age-group sevens and rugby union sides last year. She made the Go for Gold squad last year, which is aimed at unearthing rugby talent with an eye for the Olympics and World Cup. Players from the lower North Island gathered in March-April and met regularly in Ōtaki on Sundays.