Article
Otaki Today
Grant Robertson offers some insights into his career as a real estate agent.
I was probably always going to be a rural real estate agent. Looking back, the signs and influences were there.
I was the eldest boy in a family of eight children, brought up on a seven-day-a-week town milk dairy farm in Te Horo. The games we played often involved farms and property, whether it was paddocks of pegs down the hallway in winter, or vast swaths of roadside, cleared and divided up into towns and villages in the summer, always with Grant as the arbitrator.
My father, lvan, had a passion for North Auckland. He dreamed of a farm beside the water, more scope, a winter season off, and fishing between milkings. Every year from a young age, in school holidays, he and I "went north" to look at farms from Wellsford to Kaitaia, wasting the time of poor real estate agents. I'm sure we looked at every farm, met every agent, and heard every good line ever thrown out. Years later, the family bought a farm in Dannevirke!
As a college boy my summer job was working with Peter Doyle on the Rural Mail delivery, in those days just 300 boxes between Peka Peka and Manakau. I now knew where everyone lived!
I joined the Otaki-Te Horo Young Farmers Club, and very quickly started organising debates, social events such as Chicken and Champagne dances, progressive dinners, car rallies and inter-club rugby. I spent hours on the phone at night. Good training for a realtor.
My first corporate job was with Colyer Watson. I was hitch-hiking to work in Wellington when along came a top model Mercedes Benz, Sir Clifford Pearce at the wheel. We talked beef, deer, corporate strategy and shipping. By that afternoon I was hired as his logistics guy, documenting the purchases of cattle hides, lamb pelts and tallow throughout New Zealand, all the by-products of the export meat trade.
I was taught export documentation, letters of credit, certificates of origin, certificates for insurance, sales statements, and worked side by side with Ewan Frampton, a master operator as he bought and sold product throughout New Zealand and around the world.
I headed overseas at 20, spent five years working and travelling in Britain, Europe, Africa, Russia, Scandinavia, and South-east Asia – in all more than 50 countries. I saw a lot of the world, always wearing my Sunny Ōtaki T-shirt.
At 25, I felt the oldest I have ever felt. I was poor, asset free, and all my old friends had wives and children, houses and farms. It was time to move back to my beloved Ōtaki. I was a full-time shearer and contractor for seven years with a top tally of more than 500 in a day, but the key learning from this was that "you only get paid for what you do" – your work rate and your skill.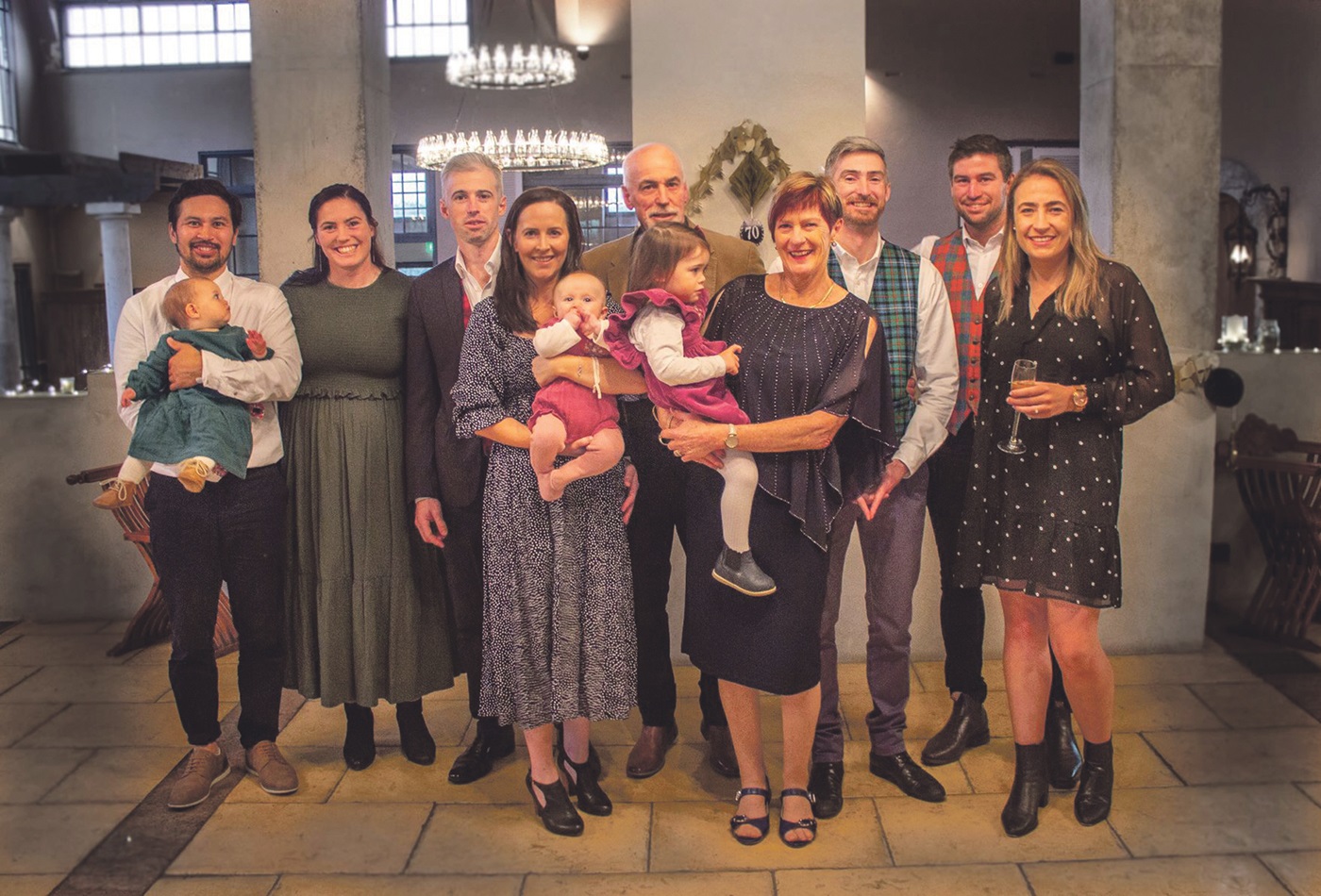 Joanne and I married, and soon son Scott was on the way. It was time for a change of occupation. An ad in the Chronicle – Rural Real Estate Consultant required – opened a new door. During the next five years, I studied for the AREiNZ exams, qualifying to operate a company by 1992. That year I bought the Challenge Realty franchise for Levin and Ōtaki, which later morphed into L J Hooker. We grew the company to four branches with a team of 35 and had a huge amount of fun. We sold that business in 2006, after 20 years of huge effort, and total commitment.
As a family, we rediscovered the joys of travel. Unburdened by the responsibility of staff and customers, we spent 10 months travelling in the US and the UK, and lived in a gorgeous village in France for several months.
As a realtor you stand at the crossroads of people's lives, spending lots of hours solving the dilemma of their next move. In 2008, we bought the First National office here in Ōtaki. It was a boutique operation, two minutes from home and intimate with our community. The office thrived from the start, focusing on rural and lifestyle, always my forte. We added people, and stayed in business longer than anticipated, helped by the bullish real estate market.
Now we're joining Property Brokers. We're totally comfortable with their family-owned, rurally based, high integrity, full-service model. We look forward to accessing their network and resources, and for son Travis, the training and back-up for when I step back a bit more from "the crossroads".
Serving my community as a realtor and helping others get started in real estate has been enjoyable and a privilege.
Real estate is a career that I can thoroughly recommend, but once again, you only get paid for what you do – your work rate and your skill.
OTHER STORIES
... loading ...