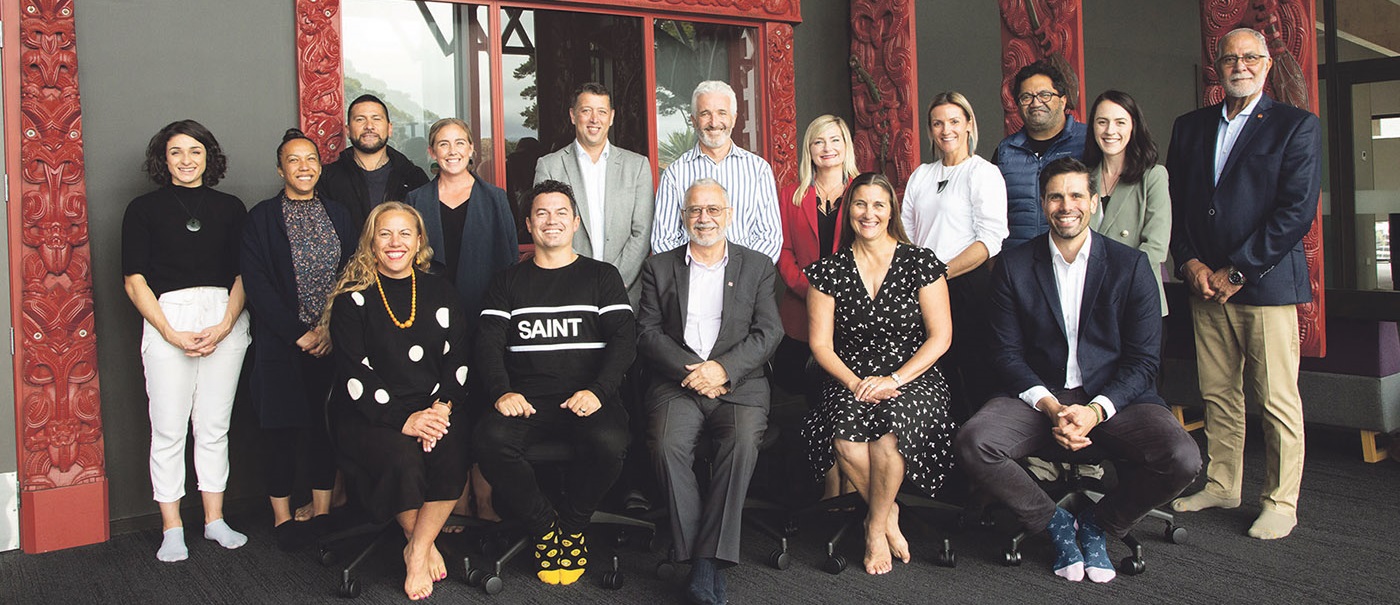 HUI: Whitihiko ki te Ao advisory group members and Te Wānanga o Raukawa staff during the first formal hui. Back row, from left: Ranui Ellison, Kiri-Olive Maxwell, Tanira Cooper, Stacey Winterburn, Justin Gray, Rob Fyfe, Vanessa Sorenson, Elena Higgison, Rangi Te Whiu Jury, Katherine Raureti and Hohaia Collier. Front row: Oriwia Raureti, Mike Jenkins, Robin Hapi, Catherine Jones and Rob Fisher.
Photo supplied
Te Wānanga o Raukawa has joined with tech industry leaders to establish a world-first digital learning programme grounded in te reo, tikanga and mātauranga Māori.
The programme – Whitihiko ki te Ao – will create a digital innovation campus and startup incubator within a kaupapa Māori learning environment.
Leaders from New Zealand's tech industry have formed an advisory group and will work alongside Te Wānanga o Raukawa to inspire and prepare more Māori to participate in the tech industry, in a bid to reduce the growing equity divide between Māori and non-Māori.
The industry advisory group includes some of New Zealand's most innovative technology and business thinkers. They are:
 Mike Jenkins, chief executive and founder of Instillery

 Catherine Jones, chief executive of Creative HQ

 Rob Fyfe, former chief executive of Air New Zealand and business leader

 Vanessa Sorenson, managing director of Microsoft NZ

 Justin Gray, managing director of Datacom

 Rob Fisher, lead partner for Technology Consulting at PwC.
The advisory group will support Te Wānanga o Raukawa to bring the vision for Whitihiko ki te Ao to life.
Wānanga tumuaki (chief executive) Mereana Selby, says the vision is to inspire and prepare more Māori to participate in the technology industry.
"We want to give them the skills and knowledge they need to become navigators and creators within the technological and digital worlds so that they can become digital communicators of te ao mārama – the physical world," Mereana says.
"We know we can't do this alone so we have joined with leaders within Aotearoa's tech industry. We want to ensure our students leave their learning journey industry-ready. We also need to support industry to lift their game and become employers of choice for Māori where being Māori is an asset."
Technology is the highest-paying industry and the third-largest export from Aotearoa, and demand for technology skills is expected to continue rising for years to come.
"The lack of Māori participation in the industry means that not only are Māori missing the opportunity to accelerate Māori economic growth, but industry is missing out on Māori who can offer dual competencies in technology and mātauranga in this increasingly important part of the economy."
The Wānanga has acknowledged the learning power of technology for many years. In 2000, it was the first tertiary organisation in the country to make owning a computer for students compulsory.
"That was about ensuring Māori were engaged in the technology world and not left behind. What we hear is that Māori are under-represented, so we've looked at pathways such as Whitihiko ki te Ao that will allow our students to become skilled in this space.
"As a magnet to our people, as an enabler, we can open up huge new opportunities."
Datacom's Justin Gray is a big supporter of the initiative.
"This is a unique opportunity to partner with a community that has established an end-to-end learning pathway grounded in te ao Māori," he says. "This is the changing face of New Zealand's workforce and we need to do just as much work to prepare ourselves as future employers."
Advisory group chair Rob Fisher says Whitihiko ki te Ao is an innovative, by-Māori, for-Māori approach to closing participation gaps in the tech industry.
"Te Wānanga o Raukawa are thinking much broader than just tertiary training, exploring how they can inspire and spark curiosity with tamariki about the infinite opportunities and possibilities of technology.
"The establishment of a start-up incubator in Ōtaki will provide a pathway and support-structure for students with entrepreneurial ambitions. We could see a new wave of Māori start-ups thriving on the local and global stage based in regional Aotearoa.
"The advisory group is excited to play a supporting role in their ambitious vision."