Article
Otaki Today
Fifty-four bikes, helmets, pumps, and even a new bike track. No wonder the kids at Ōtaki School were happy.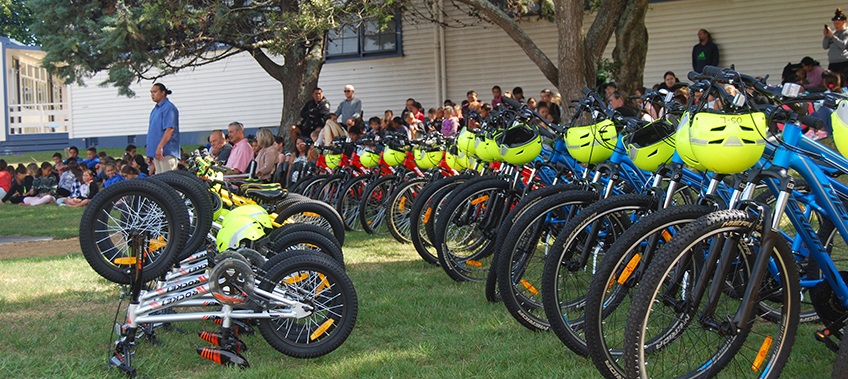 The kids might not have appreciated the importance of it, but the dignitaries certainly did. Among those attending were South Korean Ambassador Seung-bae Yeo, Kāpiti Mayor K Gurunathan, and members of the K-Force Association (Korean War veterans). They came, gave speeches and some took a ride around the track. It was a big day for the Bikes in Schools programme.
Since 1993, Ōtaki School has hosted the veterans and the South Korean Ambassador as part of its annual commemoration of the Korean War ceasefire in 1953. Recognising this special relationship, the Korean Government contributed $10,000 to help pay for the bikes.
Another $14,000 came from the Bike On NZ Charitable Trust and $9400 from the NZ Community Trust. Bike Barn Kāpiti supplied the bikes, as well as helmets, pumps and work stands for maintenance. Local company Rasmac built the track.
Bikes in Schools is a nationwide initiative and Ōtaki School is first on the Kāpiti Coast.
"We are absolutely thrilled with our fleet of 54 new bikes," principal Chris Derbidge said. "The bike track it is a tremendous asset for our school and the community.
"As well as recreational lunchtime use, our students will utilise the bikes as a fun component of their physical education programmes. Bike NZ will be coming into the school to teach cycle safety and the older students will be learning aspects of bike maintenance."
The bikes are various sizes so they can be used by ages four to young adult. They're stored in a purpose-built container on site.
Ambassador Yeo said he was pleased to see the children happy.
"I hope the bikes will make a valuable asset for the community, as well as the school," he said. "It is meaningful to do something useful for future generations, and I expect this will further enhance the friendship between Korea and New Zealand in years to come.
"It's all about the friendship between Koreans and Kiwis, which was first forged during the Korean War and is getting stronger ever since. We appreciate New Zealanders' continuous support for our efforts to build peace on the Korean Peninsula."