Omeo my, it's a world beater
The innovation of an Ōtaki inventor is paying off with the international launch last week of the Omeo personal mobility vehicle.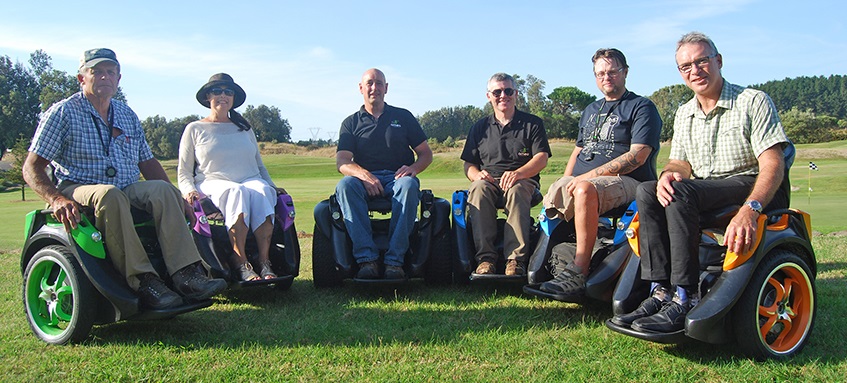 Kevin Halsall has transformed with cutting edge technology what has traditionally been a cumbersome wheelchair or mobility scooter. His prototype, the Ogo Evolution 1, has taken a giant step further with the Omeo, and it's now set to take the world by storm.
The Omeo is the only personal mobility device anywhere that fully integrates a unique dynamic seat control system with self-balancing technology.
It means users intuitively govern the direction, speed and braking of the device through body movements – completely hands-free.
"This is the magic mind-body movement at work – you point your eyes and Omeo instinctively follows," Kevin says. "It's just like walking. What's actually happening is the Omeo is engaging body and mind together and your core weight is intuitively shifting in the direction you want to go.
"At the same time it provides a complete sense of balance and a great low impact workout for any core muscles you have."
The hands-free operation and range of all-terrain tyres give users the freedom to play sport, move around work and navigate just about any environment from city sidewalks and trains to farm tracks and the beach.
Innovative self-levelling legs provide a stable platform to transfer on and off, and its 38km battery range and powerful headlights allow users to get from A to B at any time of the day or night.
The machine come in five colours and users can modify their ride to suit their lifestyle.
An accessory holder provides for smartphones, cup holders, water bottles, fishing rods, camera clips and other items that people want to take with them.
It has the potential to change the lives of thousands of people with disabilities. Already, the company has 31 agents in seven countries taking orders, with enquiries from around the world.
"Our business model has been crafted around the needs of the consumer so that they have an affordable, safe, reliable and fun product," Kevin says. "Our mission is to get the Omeo to as many people as possible who can benefit from it."
Kevin, who is the founder, designer and director of Omeo Technology, says the vehicle has gone through rigorous testing against exacting world safety standards.
"It's now ready for mass production and international distribution from Ōtaki."
Omeo Technology's head office, with its administration, research and development areas, remains based in Ōtaki.