News
Otaki Today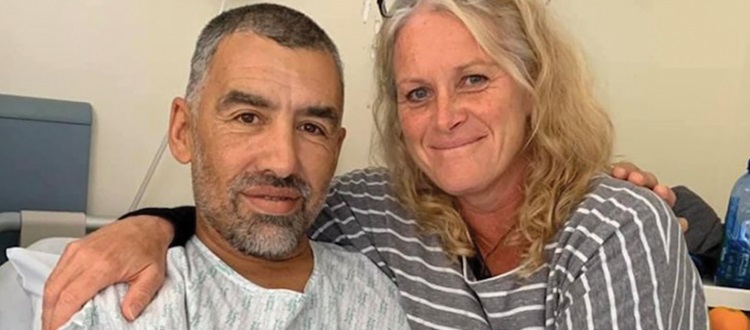 Some people pack a lot into their lives. Sam Doyle is one of them, but now he's battling leukemia in Palmerston North Hospital and pondering how much more he will be able to do.
The out-of-the-blue diagnosis came just six weeks ago for Sam, wife Tracey and their four daughters, Kara, Kotuku, Wikitoria and Raukawa. It's thrown their lives into disarray, but they're stoic in their confidence that Sam will be OK after all of this is over.
"His recovery is a bit out of our control, which is difficult for someone like Sam," Tracey says. "But he's positive and upbeat. I'm very proud of him."
Sam will move soon from Palmerston North for chemotherapy at Wellington Hospital, which is likely to take several more months. It means long stints for Tracey to be away from her girls, who are being cared for by other family members. It puts incredible pressure on the family, not just emotionally, but also financially.
A Givealittle page entitled Project "Sam the Man" has been set up, which at press time had accumulated $13,700. Levin College Old Boys also ran a raffle at Saturday's games against Rāhui.
As Sam was a Hurricanes rugby player, the franchise's alumni group held a virtual celebrity charity chat show and auction on Monday evening (June 15). An initial tot-up showed it raised $15,400, which will be passed on to the family.
Organiser Mike Russell said the aim was to help the family stay connected whenever possible.
"There's a financial burden on the family during a time when they shouldn't have to worry about money, so we're getting behind Hurricane No 11 and showing our support."
When the Hurricanes were first formed in 1996 Sam was the 11th player (in alphabetical order) to receive the jersey.
Tracey is humble in her appreciation of support – from her whānau, the Ōtaki community and their wider circle of acquaintances.
"We know it's going to be a long road and we just don't know what's ahead," she says. "We've got a good tight team around us who have really helped me and Sam and the girls. We just appreciate every bit of support."
Tracey's sister-in-law, Tanya Doyle, is organising a working bee to landscape around the Doyle house. It was a project that Tracey started the day Sam was diagnosed, so was put on hold.
Sam played for Wellington from 1994 to 1997. As a more than useful utility back playing anywhere from half-back to full-back, he played 30 games for Wellington, scoring 64 points.
He came into the Hurricanes side in 1996 as a replacement for another great Kāpiti rugby player, Christian Cullen. He played in two matches at fullback against the Highlanders and the Reds, scoring a try in the 44-15 win against the Highlanders.
His top-level playing career was hampered by injuries in 1997 and he was unable to recapture his place the following year.
Sam also played for Manawatū, Horowhenua-Kāpiti and Rāhui into his late 30s, following a similar career path to his father, Bill. Father and son have both coached Rāhui's senior team, a role Sam enjoyed up until his illness precluded him from attending training sessions.
At the end of last year Sam left his role as tumuaki (principal) of Te Kura-a-iwi o Whakatupuranga Rua Mano, the kura opposite Te Wānanga o Raukawa. He's currently a senior adviser for the Ministry of Education.
Donate to Givealittle Project "Sam the Man"