Article
Otaki Today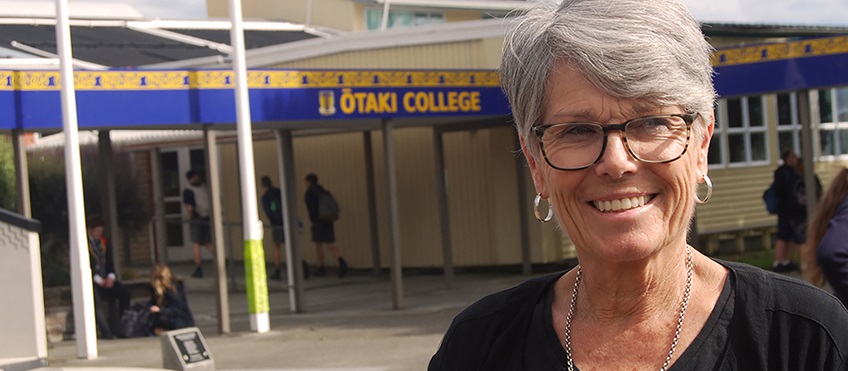 For thousands of students, Janice Brown has been synonymous with Ōtaki College – never one without the other.
The genial senior dean has not only provided a classroom education, but perhaps more importantly, a sympathetic ear and sound advice that's got many students through some difficult times.
Janice's first assignment at Ōtaki was as a relieving teacher in 1978. It lasted only six weeks, but she was to be back three years later after being head-hunted by then-principal Rex Kerr. She has become a fixture at the college every since.
Janice was born in Whanganui while her family was working on a farm in Maxwell. Her father was a shepherd, so the family moved where the work was, including Taihape and Mangamahu. By Standard 2, the family was in Shannon and then Moutua, and Janice went on to Manawatū College.
The education journey began in 1972, when as a 16-year-old Janice started at Wellington Teachers' College. The family had come to Ōtaki, living near to and becoming friends with Rex Kerr and wife Elizabeth. On completion of Teachers' College, her first school was at Taradale, and then Tairangi in Porirua East. It was there that she became part of a liaison team working to support teachers.
As with many young Kiwis of the time, the lure of overseas experience beckoned. Janice travelled for three years, living and working in countries including South America, South Africa, Israel, Scotland and England. It meant a variety of jobs as diverse as cooking for coach tours around Europe, waitressingQ, working for a travel agency and as a barmaid in Knightsbridge, London, frequented by comedy stars of the time such as Spike Milligan and Kenny Everett.
By the time Janice returned to New Zealand, it was the family association with Rex – and the impression she'd made in her brief stint at Ōtaki College in 1978 – that led him to secure her as a permanent teacher in 1981.
Gaps in her tenure since have included maternity leave for her two children with partner Russell Gibson, a year in Australia and brief teaching assignments at Ōhau Primary School and Horowhenua College.
There's an obvious affinity, however, with Ōtaki and its college. Janice has grown with the college, adapting to changes and never losing sight of the fact that students matter.
Her pastoral care is legendary, going out of her way to ensure that students get the support they need in often difficult personal circumstances.
She's embraced the college's restorative practices culture, which has seen it become a leader in New Zealand education.
"Relationships matter," she says. "It's not 'them and us' for students and teachers. The old ways of assertive disipline don't work. There are expectations of behaviour at Ōtaki that means issues can be managed without it being confrontational. There's a genuine respect for each other.
"I think the college is now the best it has ever been."
It's not to say there aren't problems to resolve. She sees it every day in classes, in her office and on the streets. She recognises that many families are struggling under all sorts of pressures – from financial difficulties to health problems, alcohol and drug addiction.
Kids arrive at school hungry, tired from all-night computer gaming, and often without proper uniform. True to form, Janice opens a cupboard where there's a pile of new shoes, ready to go free to students who need them.
So at 63, is Janice ready to retire?
"I love teaching. I love living and working here. Our families and students are amazing. It's not to say I want to do it for the rest of my life, but I've got no plans to give it up just yet."
That's good news for Ōtaki.