News
Otaki Today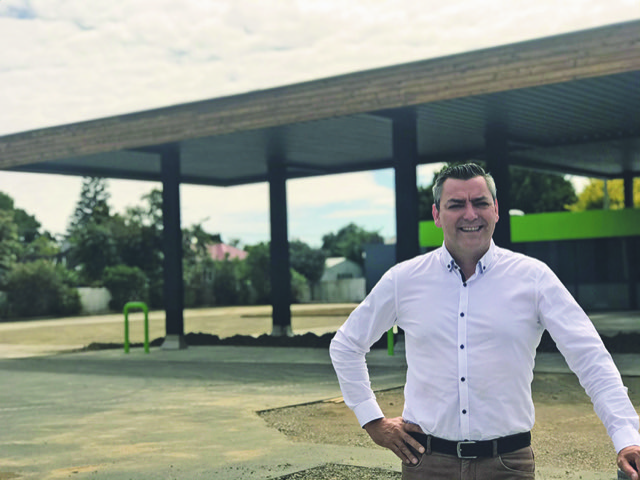 The announcement of a new Saturday market and development of what is to be known as Ōtaki Yard on the old Caltex site has to be good for the town, says Cr James Cootes.
The Ōtaki ward councillor said this week he was looking forward to opening day.
"I've supported this project from the start because I believe there will be benefits for all of Ōtaki," James said. "This kind of development will attract more visitors and over time provide more jobs for local people. It's what the town needs and I'm really looking forward to opening day."
James said he'd heard some concerns that the development would draw business away from existing retailers and the current Sunday market (see comment page 10), but he believed Ōtaki Yard would enhance the railway shopping district.
The new market is due to open on Saturday, March 21, and continue every Saturday. It's a precursor to what the developer says will be a "social hub" that will include food trucks, boutique retail stores and entertainment. The market will be able to house up to 100 stalls as well as a range of food offerings to attract families, food lovers and people looking for gift ideas.
The block of land has been vacant for about a year, creating a big gap in Ōtaki's main retail sector and generating speculation about its future. However developer Nigel Ross said it was time to get on with the work.
"There are too many shops that are currently vacant in Ōtaki, and it is not fair on the traders and residents of Ōtaki to leave our site completely empty any longer," Nigel said. "This market will bring the much needed additional customers to Ōtaki, and pave the way for the exciting full development of the site once consent is granted."
The development is waiting on consent from Kāpiti Coast District Council, which could happen by the end of the month. It's understood the application has been waiting on feedback from the NZ Transport Agency as part of the consent process.
The commercial manager for Ōtaki Yard, Nate Cornish, says the market will highlight Ōtaki's place on the Kāpiti Coast and showcase some of New Zealand's great artisans. He believes it could become an iconic New Zealand market.
"The goal is that Ōtaki will become a destination to travel to, not just through," he says. "We want to bring together the best growers, crafters, makers, bakers, and more, and make it the market that people of all ages and stages cannot wait to go back to.
"We are looking to stimulate the local economy and turn Ōtaki into a renowned destination. We want to be New Zealand's favourite market."
He says Nigel has seen high quality markets become an international trend and it makes sense to establish one here.
"Demand for fresh produce is increasing as is awareness around where and how food is being produced."
Ōtaki Yard is seeking stalls that supply high-quality goods including fresh produce, homewares, jewellery, cured meats, cheeses, bakery items or flowers. It's also looking for gourmet food trucks with a sustainable focus. In the final development, the big high-stud shed and the former service station building will be refurbished. Long-term tenants could include businesses such as a micro-brewery/distillery or café with integrated retail.
Nate says Ōtaki Yard, which aims to become the central social hub of the town, has partnered with Ecoware to provide retailers with discounted compostable food service products, which will cut down on the amount of single-use plastics entering landfills.
Richard Innes of Barak Property, which manages Nigel's portfolio in New Zealand, says Ōtaki Yard presents an opportunity to capitalise on the traffic going through the railway area of Ōtaki.
"When the expressway is finished, the travel time to Ōtaki will decrease and since Ōtaki is the only town with planned interchanges to the north and south, it will be an easy rest stop for travellers."
He rejects the view that Ōtaki will go backward after the expressway is completed.
"With the town becoming more accessible from Wellington and with adequate interchanges, [Nigel's] view is that the town should thrive," Richard says.
Nigel owns three other blocks of shops in Ōtaki, and he has a large portfolio of leisure and retail properties throughout New Zealand. These include a prime block of shops and two backpackers/ motels in Paihia, The Sheep Ram & Dog in Tirau, The White Swan in Greytown, hotels/motels in Nelson, Glenorchy, Methven, Picton and Franz Josef, as well as a large part of the Lake Tekapo shopping area and the Mercer Service Station.