News
Otaki Today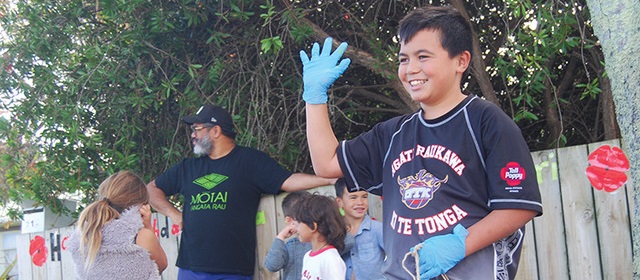 It sucks not having your mates and wider whānau around for your birthday.
But Taipari Tukerangi, who turned 11 on Sunday (April 26), got the second-best birthday by being able to wave to well-wishers as they drove past his house on Mill Road.
Mum Katera Rikihana-Tukerangi wanted to do something special for Taipari, but the limitations of lockdown were going to make it impossible for a traditional birthday party.
"So many of the whānau were asking what we were going to do for Taipari and I wanted my boy to know that people were still thinking about him on his birthday," Katera says.
"His dad, Lance, had his birthday just the day before on Anzac Day, so I thought if our Rikiville bubble goes out to the front gate, we could have a 'drive-by birthday toot'."
The plan worked. In the brief time Ōtaki Today was taking photos, dozens of cars tooted and many stopped to wish Taipari well – from a distance, of course.
"We even had a special visit from Uncle Pat [Hakaraia], who swung past and tooted his super loud horn. It was great, although the birthday boy was covering his ears the whole time."
Pat made the horn especially for the occasion.
"Taipari was happy," Katera says. "He couldn't believe how many people came by in the half-hour or so we were outside."
The whānau bubble at their papa kainga also celebrated Katera's birthday during lockdown.