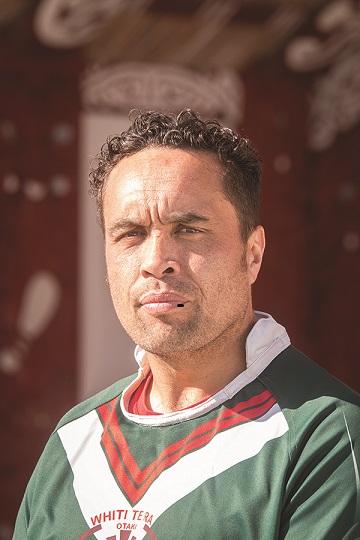 The trophies look good in the clubhouse cabinet, but Kahura Cameron is a man more focused on the journey than the result.
The big No 8 for Ōtaki rugby league club Whiti te Rā relishes every season, and he's seen a few. With his 40th birthday just around the corner, it's been a long journey, and hanging up his boots has been on his mind lately.
However, the love of the game, and the camaraderie of his teammates, club officials and supporters, is likely to keep him running onto the paddock for a while yet.
Whiti last month won its sixth premiership league title in a row – three in the Manawatū competition and three in Wellington.
"It's great to win titles, but the success of Whiti te Rā is down to its strong connection with whānau, hapū and iwi," Kahura says. "There's no greater motivation than to do well for our people. That's the true secret of success."
Kahura played league for the Levin Knights and rugby for Wanderers before arriving in Ōtaki in 2005. With connections to the town through his grandmother, and having studied teaching at Te Wānanga o Raukawa, he was naturally drawn here. He now teaches at Waitohu School. League gave him an opportunity to contribute to not only the local team – he was captain from 2013-15 – but also the community.
"I got a lot of inspiration in the earlier days from the senior players," he says. "There were some hard men back then, like Boogie Peneha. But the biggest strength of the club lies in the people behind the scenes."
Kahura cites the coaches and other officials such Dale Miratana, Rahiri and Meihana Edwards, Wayne Cooper and Murray Ropata.
"These are the people who are not only getting you fit and getting your game right, but they're also taking the gear home after the game and cleaning it, then bringing it back fresh for game day. They're the life of the club."
He also has huge praise for the club co-chairs, Kelly-Anne Ngatai and Kimo Winiata, who make sure everyone is looked after, and the wāhine of the club and team – the wives, partners, mums etc who are always there offering support. The Tele publican Duane Watt, whose pub is Whiti's second clubhouse, is also a big supporter.
"One of our traditions is to ensure our team is looked after, but even more so our visitors. We will always see that they're fed and have the opportunity to have a beer with us after the game. We're well known for our manaakitanga [hospitality]. It's the way it should be."