News
Otaki Today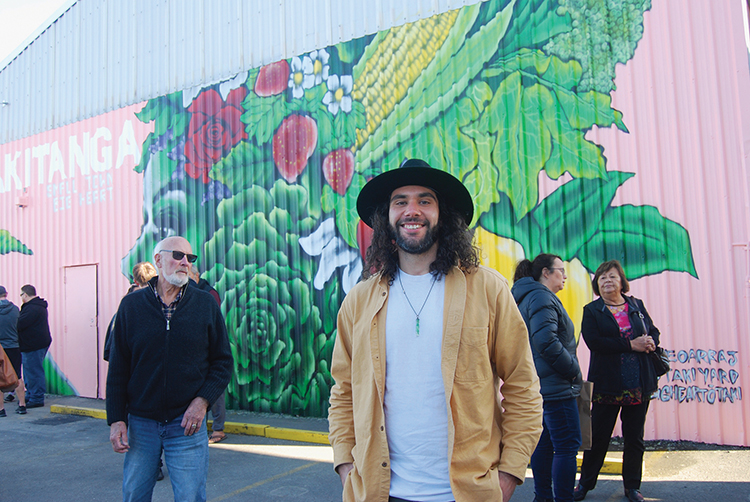 The Ōtaki Yard Market opened to post-Covid fanfare on Saturday (June 13) with food trucks, fruit and vege sellers, art and craft stalls – and a giant mural clearly visible to passing traffic.
The mural provided an ideal backdrop to the market and attracted plenty of positive comments from the many hundred of visitors on Saturday. It adorns the site's big shed previously the workshop for a motor mechanic business.
Fine weather allowed it to be completed in the week before opening by Kāpiti artist Theo Arraj.
Theo has done many murals to revitalise public spaces around the Kåpiti Coast and lower North Island. This is one of his biggest projects.
"Apart from one at Kāpiti Lights, this is probably the biggest," he says. "It's been challenging because of the corrugation on the wall, and it's been done in a tight time frame. But I'm pleased with it."
After poring over the notes about the Ōtaki Yard plans, Theo produced the concept of the mural that he's named Gaia's Gift. It represents Mother Earth and her giving nature.
"Being a space where you will be hosting markets I wanted to incorporate fresh fruit and vege in a unique way, while also creating a piece with meaning and impact," he says. "I set out to create a concept that encompasses Ōtaki Yard's vision and colours, while telling a story and expressing an idea."
Theo draws inspiration from all areas of his life. Even when he's working with a client to produce a mural he likes to retain creative control, so there's always a level of self-expression.
He hopes the art will make people stop and think about the story of respect and beauty for the life the Earth gives.
While it is an Ōtaki Yard concept, and largely paid for by the Yard, Elevate Ōtaki has also contributed to the cost.
"The purpose and kaupapa of Elevate Ōtaki has always been to work in support of enabling a thriving, bustling, enhanced community," says Elevate Ōtaki chair James Cootes. "Building up business confidence is a big part of achieving this.
"The Ōtaki Yard's vibrant market will attract people to our town with a flow-on effect to surrounding business."
Elevate Ōtaki had previously identified the wall – among many others throughout Ōtaki – as a site for future big image photographs to support the rollout of the soon-to-be-revealed Ōtaki identity.
"To get it showcased on national TV was an added bonus," James says.