Te Horo midwife gets lifetime award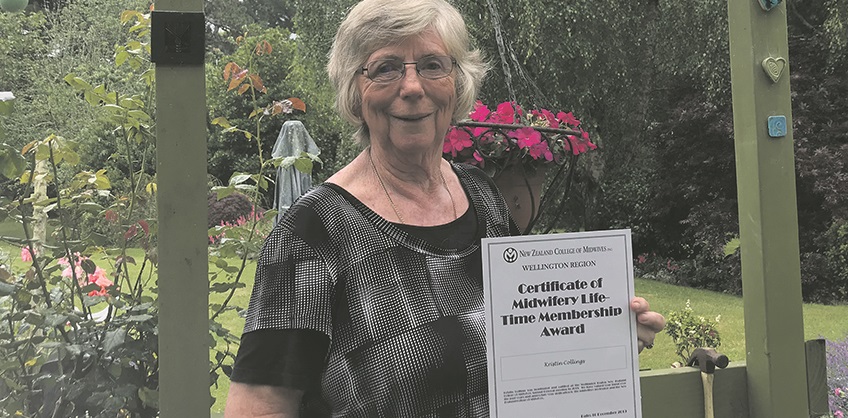 A Te Horo woman who says she's always had a "hand-on" approach to the birthing profession has been honoured with a lifetime membership award from the College of Midwives.
Kristin Collings received the inaugural Wellington region certificate just before Christmas. She was one of four people recognised with the award, but proudly says she's the only one outside of Wellington.
"I retired in 2016 and thought it was all behind me, but then I got this award," Kristin says. "It came right out of the blue. It was quite special."
One of the award citations said Kristin was "a true community midwife – dropping off plums and wisdom while having a gift for building belief in birth and confidence in the women".
Kristin will be well known to many Ōtaki district families – and others as far south as Paekākāriki – having delivered an estimated 1500 babies in her long career that began in Wellington in 1970. Included in that career was 14 years at the Ōtaki Maternity Home before it closed in 1992.
"I always considered myself a hands-on midwife," she says. "I liked the hospital-based training in my day. It wasn't like it is now, where you study at university and then go into midwifery.
"There were always doctors present at births then, too. Midwives now have total care, so they really need to be astute.
"While I liked to be totally involved in my clients' care, I also knew when I needed to ask for help. I've never been one to think I know it all."
Kristin trained as a general nurse at Wellington Hospital and spent a year working in A&E before spending three years overseas. She returned to New Zealand in 1969 to do her midwifery training at St Helens Hospital, a career she stayed with for the rest of her working life.
She ended her career as an independent practitioner with Nikau Midwives, an organisation she and other Kāpiti-based midwives formed in 1998. She retired only after fracturing her skull in a fall at home, which required a long recuperation.
"I probably wouldn't have retired otherwise. I loved my vocation. There's always been the excitement and thrill of seeing a new baby being born."