News
Otaki Today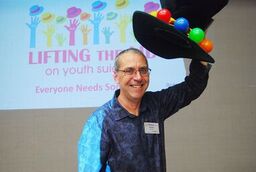 The launch of the Lifting the Lid youth suicide project has raised $10,000.
A lunch at Southwards Car Museum on Friday, October 4, raised the cash after a garden shed donated by Ōtaki College, artwork, a Hurricanes rugby shirt, an own-label gin prize and other items were auctioned. The Nikau Foundation also announced that it would provide $5000.
The Lifting the Lid initiative has been organised by Rotary, with Ōtaki College principal Andy Fraser a driving force behind it. Its aim is to provide funding for counselling services when families can't afford it and when other avenues have been exhausted.
Project chair Bruce Morgan said the Horowhenua-Kāpiti region had the fifth highest youth suicide rate in Aotearoa.
"The thought of kura tuarua [secondary school] students not having access to a counsellor that can make a difference is to me devastating," he said.
The initiative doesn't duplicate youth support policy for public or private providers. The strength of Lifting the Lid comes from the community working together since November 2018.
"Together with Andy Fraser from Ōtaki College we have created a seamless process that enables youth to get immediate assistance," Bruce said. "It gives each kura tuarua the ability to make an instant decision to seek help through the Lifting the Lid project to support their students when others can't."
The goal would be to one day not have the need for the project.
Guest speaker Dr Chris Bowden of the School of Education, Victoria University of Wellington, said 685 people died by suicide in New Zealand last year. Eleven of these were 10-14 year-olds and 73 were 15-19 year-olds (an increase from 53 the year before). Most of these suicides were Māori youth, young men, and students. Young people aged 15-19 have the second highest rate of suicide (23.14 per 100,000) after the 20-24 year-olds.
"Young people who are actively suicidal or at risk of suicide need professional support," he said. "Counsellors, youth workers and social workers can provide some support, but they often need the help of psychologists, psychiatrists, psychotherapists and others with specialist knowledge and expertise."
Accessing counselling (beyond what is offered at school and in local services), psychological treatment and intensive professional support are key aspects of effective suicide prevention.