News
Otaki Today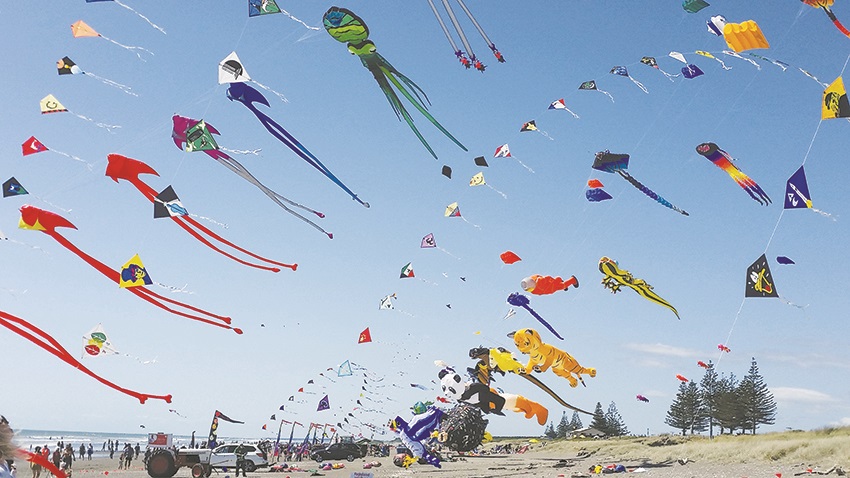 The best array of kites to hit Ōtaki Beach were on show with spectacular effect at the weekend.
The eighth annual Ōtaki Kite Festival on February 8-9 drew huge crowds again – estimated at more than 20,000 – who strolled along the beach among the kites, flew their own kites, went for a swim, browsed the stalls and listened to the on-stage entertainment.
The strong winds on Saturday had many of the smaller kites stranded for the day, but Sunday proved to be a stunner. The legendary Ōtaki sunshine shone and a good onshore breeze gave kite flyers from throughout New Zealand and around the world the ideal conditions they were hoping for.
Flyers from the Netherlands, England, United States and Australia brought kites never before seen at Ōtaki. They revelled in the conditions and were overwhelmed with the event and the hospitality they received.
Many of them arrived in the middle of the week, allowing them to have a couple of days of ideal flying conditions before the festival. They made the most of it with some impromptu flying on the beach.
Australian Bodie van der Hilst, who came for the first time with Queensland's Phoenix Kite Collective, was stunned by the beach, the weather and the festival.
"We've had a fantastic time here – you're so lucky in Ōtaki to have a beach like this and to be able to put on such a good festival."
Simon Chisnall of Ashburton's Peter Lynne kites, who attends kite festivals around the world, was equally enthusiastic.
"This year was one of the best festivals I've been to," he said. "You've got a world-class event."