News
Otaki Today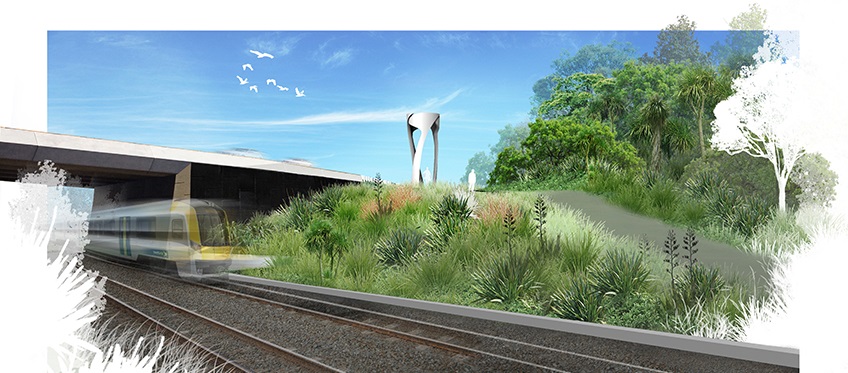 The sculpture designs to signify the gateways into Ōtaki were revealed at the Ōtaki Community Board meeting on Tuesday night (June 11).
The art works, which will grace the north and south entrances to Ōtaki from the new expressway, reflect the braided waterways that once criss-crossed the alluvial plains on which Ōtaki is built. Three significant waterways – the Waitohu and Mangapouri streams and the great Ōtaki River – wind together to meet in a circle that captures whiti te rā, representing the sunny rays of Ōtaki.
The forms are also influenced by the kō, a traditional Māori cultivation tool, linking to Ōtaki's rich history in horticulture and gardening. The circle where they meet also reflects the criss-cross influence of the wheels of progress, from stagecoach to railways, mills to modern motors.
Leaders from across the Ōtaki community formed the Otāki Gateways Steering Group with the NZ Transport Agency to oversee the design of the sculptures, providing viewpoints and input from the community and local organisations. The steering group includes representatives of the Otāki Community Board, Kāpiti Coast District Council, Nga Hapū o Ōtaki and the Transport Agency.
Community board chair Christine Papps says the sculptures were designed to add value to Ōtaki and provide a focus point for those travelling through.
"The art works are very much driven by the local community and make an impressive visual statement which reflects Ōtaki's heritage and aspirations," she says.
Rupene Waaka of Nga Hapū o Ōtaki says the three strands that make up the sculpture create voids which frame views to the surrounding landscape, allowing the sun rise and set to be observed.
"Aggregates from the river will be used in the concrete sculpture, embedding the DNA of Ōtaki within."
He says it's planned that community narratives and messages be incorporated in a time capsule for future generations to unearth.
Ōtaki Ward Councillor James Cootes believes the sculptures will be stunning iconic features of Ōtaki and Te Horo.
"The sculptures will draw people off the expressway and into our community to experience, photograph and enjoy them. They'll help put Ōtaki on the map and tell its rich history from past to present, becoming an attraction in their own right," he says
The steering group selected designers from the community to work with Fletcher Construction on the design of the sculptures. Fletchers will organise the erection of the sculptures alongside the new expressway. The sculptures are due to be installed in early 2021.