News
Otaki Today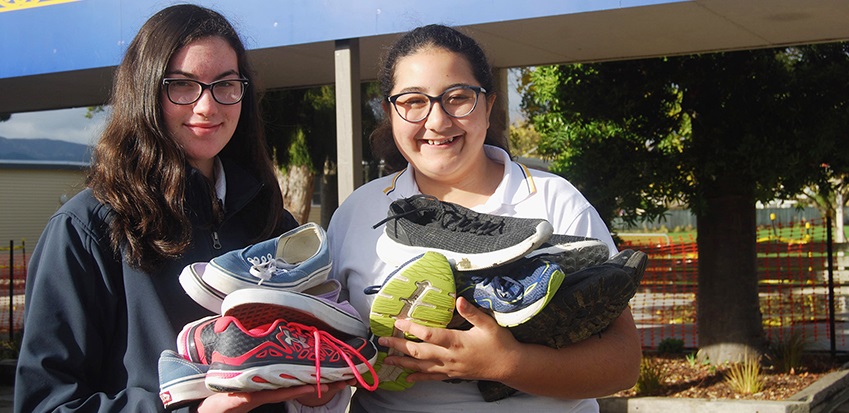 An initiative that aims to provide shoes for all students has caught on at Ōtaki College,
Thanks to young students Meleane Nelson-Latu and Alyssa Te Wiata, the Share a Pair scheme has already had more than 100 pairs gifted. The students say many more are needed to ensure that local families – not just college pupils – can have good shoes.
"We know that a lot of people here don't have decent shoes," Meleane says. "Sometimes the soles are worn right through, and the parents can't afford to get new ones.
"Students feel embarrassed about it. They end up not going to school."
Mealeane and Alyssa were inspired by a talk at Te Wānanga o Raukawa in which Palmerston North student Maddie McQeen-Davies spoke about the difference the scheme was making. Maddie founded Share a Pair at Palmerston North Girls' High School.
The two Ōtaki students became the scheme's first two ambassadors. They got a boost after receiving a $216 grant from the June Oakley Memorial Trust.
The idea is to collect the shoes, clean them if necessary and then redistribute them to families who need them.
"Any kind of shoe is welcome – school shoes, sneakers, kids shoes - in fact, shoes suitable for the whole family," Alyssa says. "As long as they're in good condition."
However, it's not just shoes the girls are seeking. They're also after good socks, laces, shoe cleaning gear and large plastic containers to store all the donations.
Anyone wishing to donate can email or text and the items will be collected, or they can be dropped off at Body and Soul Fitness in Waerenga Road. Anyone who needs shoes can also email (confidentiality respected) to: nelsonme@otakicollege.school.nz
or tewiatal@otakicollege.school.nz or message on the Share a Pair Ōtaki Facebook page.