Call to 'stand at dawn' for Anzac Day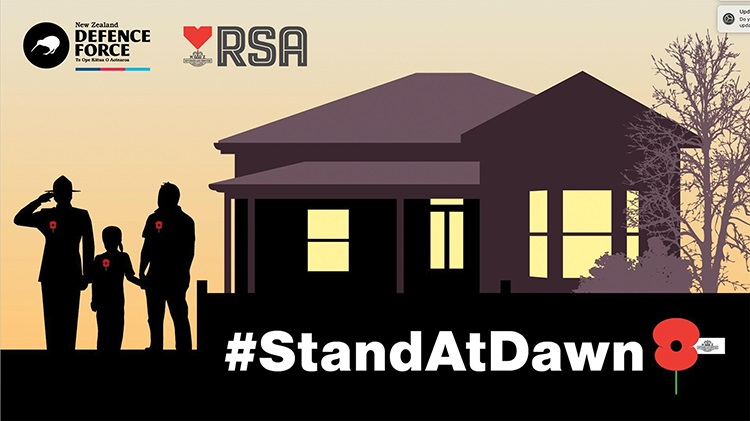 The Ōtaki RSA is encouraging locals to observe Anzac Day with the "Stand at Dawn" initiative.
The national RSA and New Zealand Defence Force have adopted the theme, in which the day is commemorated under this year's extraordinary circumstances by people coming to their gate at 6am on Anzac Day, Saturday April 25.
It's the first time since commemorations began that Anzac Day has not been commemorated with services throughout the country.
Ōtaki RSA president Mike Fogarty says it's a great initiative.
"It allows people to stand at dawn and to commemorate Anzac Day nationally, but in their own personal way," he says. "We encourage people in the Ōtaki, Manakau and Waikanae areas where our Otaki & District RSA would normally convene ceremonies, to follow the guidelines and to join the national recognition."
He says it's important that people continue to maintain their own bubble to keep themselves and the community safe.
"The last thing that anyone would want is for this Anzac recognition to interfere with the great work being done by everyone in New Zealand at this time. Stand tall, show respect and stay safe are key messages."
Poppy Day, which contributes important welfare funds for the RSA, is expected to be run later in the year after the Covid-19 restrictions are lifted.
Meantime, Mike is urging anyone who has a poppy in a drawer or jacket pocket, or can make one themselves, to wear it at 6am on Anzac Day.
The RSA says the day is still a time for people to pay respect and acknowledge the many thousands of military people who are serving or have served, and who are called upon to support New Zealand in times of war, conflict and disasters.
People are urged to stay in their bubble on Anzac Day, but stand at their letterbox, at the front door, in their lounge rooms, balconies, or driveway.
Radio NZ National will broadcast live from 6am (and on the internet or on phone via rnz.co.nz/listen/app) with the official dawn service. Veterans are encouraged to wear their medals just as they would for the official public gathering.
The broadcast includes The Last Post, Ode of Remembrance in te reo Māori and English, the national anthems and an address by Defence Minister and Minister for Veterans Ron Mark.