News
Otaki Today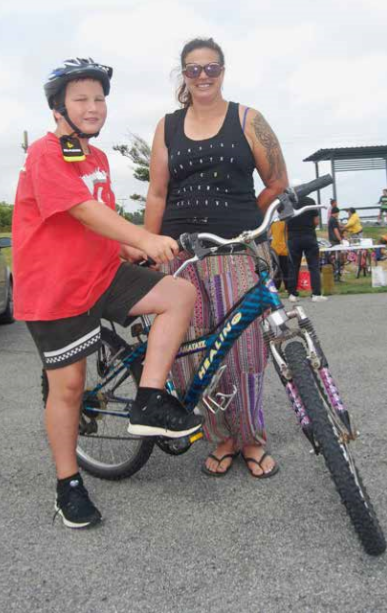 Benji's Mum wanted him to have a bike. Ōtaki Bike Space had them – for free! So Benji got his bike.
It was that simple. On February 1, Mum Lea took Benji to the first Ōtaki Bike Space day at the Aotaki Street skate park. Among the dozens of bikes available, he chose one that suited his age and build, got some advice about how to look after it, and rode it home.
He'll now be able to ride it to Waitohu School from his Bennetts Road home, rather than walk the several kilometres.
"I'm a single mum, so getting a bike free for Benji is fantastic," Lea says. "We'll now go out and check the safest way for him to bike to school. He'll love it."
Ōtaki Bike Space is an initiative of Energise Ōtaki. Its aim is to encourage more people to use bikes, rather than motorised transport.
The first bunch of 50 good condition used bikes came mostly from the Paekākāriki Bike Library, which has been operating since 2014. Others were donated. Forty were given away on the day.
Along with the bikes came 33 new helmets, courtesy of a last-minute anonymous local donor. The bikes were brought in by the public so they could be refurbished.
"We are so fortunate to have so many kind and generous people in Kāpiti," says Bike Space co-ordinator Sara Velasquez. "They have donated their unused or unneeded bikes, volunteered their time to fix bikes, or supported our kaupapa with grants and donations. Thank you."
Sara says the goal of the first bike day was to ensure that everyone who needed a bike got one. All they needed to do was contact her through the Ōtaki Bike Space Facebook page or phone her to reserve their bike.
An important component of the Bike Space is also about teaching some easy maintenance and road safety skills for people interested in bikes.
"We'd love to do a few more of these during the year, but also integrate some workshops about bike safety on the road," Sara says. "The dream is to do some regular workshops on the lost art of bike maintenance."
It would be ideal to do these once a school term, but help is needed to get bikes ready.
"Extra hands running the day would also help, so we can make sure we are meeting the need."
Helping Sara on February 1 were Phil Byrne of Ecoshifter Ltd, bike mainenance expert Ropata Selwyn, and Sara's husband, Stephan Titze. They helped fix bikes, grabbed spare parts as needed, adjusted seats, and even did a quick fix for the bikes of some kids that needed it.
Sara has appealed for anyone with bike skills to get in touch if they can help.
Ōtaki Bike Space. See on Facebook or contact Sara at 027 621 8855