News
Otaki Today
A big solar energy station in Ōtaki with the capacity to power the equivalent of 500 households is in the sights of local energy co-operative coastalenergy.nz.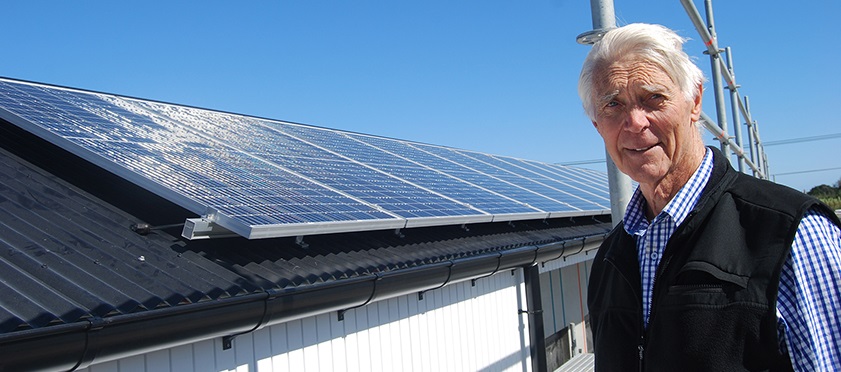 Phil Malpas of Ōtaki, who is a director of the co-operative, is promoting the concept with other members.
The plant will lease up to 6 hectares of land in or near Ōtaki for the solar generation and storage plant, which would produce 5-10 megawatts of power.
The plant would be owned by a co-operative, with investors, either individuals or households, contributing up to $3000 each to fund the project.
The power would be fed into the Electra grid, which supplies electricity throughout the Kāpiti and Horowhenua districts.
Electra manager of lines business Max Feickert says the scheme would be a first for the power company, but it supports the idea.
"We're happy to support it and see how we can help make it happen," he says. "Sustainable energy is the way of the future. I don't think this scheme will be the last one we see."
Phil says he believes investors could see a return on investment of about 10 percent a year.
"That's pretty attractive, but there's also the fact that people can help to reduce power costs, make a positive contribution to reducing CO2 emissions, and own their own power company to boot."
Phil is the founder of coastalenergy.nz (Ōtaki Energy Co-operative Ltd) and is looking for at least 2000 investors throughout the Kāpiti district – including Ōtaki – to join the scheme. As a co-operative, the community would own the solar plant that would generate the electricity.
He says he's discussing prospective sites for the plant with various parties, but it would be in or near to Ōtaki.
"The beauty of a solar power plant is that it can be sited on land that could be mixed-use, such as a farm where animals can also graze," he says.
"Solar generation has no moving parts so it quietly does the job, and it's easy to maintain and manage. It has very little effect on the environment."
It's also easily upgradeable, so any new technology can be simply plugged in alongside.
Phil says many home-owners are installing solar panels on their roof-tops for about the same price or more than the investment the co-operative is seeking.
Investment in the scheme would enable economies of scale for all the hardware, storage, inverters, installation and other costs.
"The plant would generate electricity from solar power far more efficiently and economically than is possible for individual households."
Investors would become share-holders in coastalenergy.nz and would get income from the company by selling power to the national grid and from retail sales.
"The icing on the cake is that by producing more power from renewable energy, we can make a significant contribution to reducing carbon emissions. At present around 26 percent of New Zealand's power generation is from fossil fuels. This equates to some 2000 million kg of carbon emissions.
"There is no reason why our country cannot achieve 100 percent renewable power generation, and we can be part of it."
The co-operative plans a meeting soon to show-case its ideas and inform the public.
For more information, contact Phil Malpas on 021 420-106 or email info@coastalenergy.nz