David Pritchard – hard working and entrepreneurial
David Kennedy Pritchard
22.04.1947 – 02.11.2019
David Pritchard was farewelled at Southwards in Paraparaumu on November 7 at a big funeral where mourners spilled into the foyer.
It was a sign of his huge respect among business people, workers, colleagues and friends.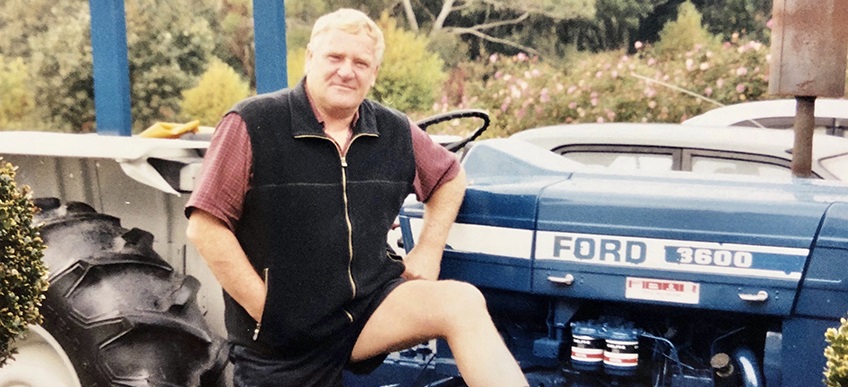 (The following is the full eulogy as given at David's funeral by his son, Sam.)
I thought I would start with a short list of books that dad used to rattle off as a joke – he told these to my kids just last Wednesday. 'Riding in the dessert all day by Major Bumsore' 'rusty bedsprings by IP Nightly' and 'Babies Revenge by Norra Tit-off.'
For anyone who doesnt know me, I'm David's eldest son Sam Pritchard. On behalf our family - Mum Jacqui, brother John and sisters Sophie and Alice, I will provide you with Dads life story. A tough ask I know to cover his busy life in a short timeframe.
David Kennedy Pritchard the 3rd was born and bred in Otaki to David and Lorna Pritchard. He was the oldest of four children followed by Stuart, Pam and Nigel. His mum was a florist and his father David was a nursery man growing orchids, tomatoes and seedlings for the local market gardeners. Both his parents were very hard workers and from the young age all the kids were expected to pull their weight. This gave them their first taste in hard work.
Dad attended Otaki primary school and went on to Otaki College as one of the foundation students. He was not much of a scholar but used to tell us how he excelled at commercial studies. It was at Otaki college where he also gained one of his life motivators – on a 1962 school trip to Australia, his first overseas trip they visited a University – the teacher said "Pritchard, take a good look because this is the closest you'll ever get to a university". Dad remembers thinking I'll show him, im going to be a millionaire one day.
He left school aged 15 and went to work dairy farming on the Bothamly's farm in Te Horo before heading off to Putaruru in the Waikato to work on his Uncle Cliffs dairy farm. Dad tells us he was a pretty handy rugby player making the Waikato team while he was up there – Billy Bunter in the front row. Given his lack of knowledge of the rugby rules I'm not sure this is true. Unfortunately Dads time in the Waikato was cut short when Uncle Cliff was killed suddenly in a traffic accident. Dad returned to Otaki and started working for Goodmans driving scrapers and dozers all over the Wellington region.
Working 16hr days Dad developed a love for machinery and was also making good money for a young fella – good enough to buy his first car – a mini.
In 1966 David Senior suggested David and Stuart lease a dairy block off the main road north of Otaki. They started with 80 cows which was all they could afford. They were so embarrassed at the small quantity of milk they were taking to the milk station they used to half fill the milk cans, so it looked like they were carting double the quantity. It didn't take them long before they were carting their milk on trucks with full milk cans!
It was at this time they started the diversification of their business by buying a brand new ford tractor and hay bailer operating as contractors for the local farmers. They worked hard running the tractors from day break to dusk making the most of every day while also running the dairy farm. They paid off the machinery quickly and bought out the opposition having 12 tractors on the go at the peak when dad was about 20 years old. The Ferguson tractor dealer wouldn't sell to them as they were too young, but the Ford dealer was more than happy to take the punt on two young get up and goers and he ended up doing a large number of tractor sales over the years.
Dad says they got their first big break when they bought the Jenkins farm on Addington Road in Otaki in 1970 – dad was just 24 and Stuart was 22. They couldn't have done it without the huge support from his Mum and Dad who sold their florist and market garden business, their house in Otaki and their grandparents beach house at Te Horo to help with the deposit. Dad and Stuart sold the cows and some tractors and contracting gear to gather up the deposit and Dad caught the train to Auckland in his best brown suit to get their first mortgage from the Southern Cross Building Society. With some help from Rod Weir and Co and a nervous wait the mortgage was approved with an interest rate was 18%. Riding high on the approval Dad booked a flight back home instead of the long train journey – he was eager to get to work.
This new property had a nice big house and gardens and the whole family moved in - many of the locals predicted they would go broke. But boys worked hard cutting paddocks in half and re fencing which quickly improved production levels and with milk prices high they started building their asset base. The property included some chicken rearing sheds which Dave senior took responsibility for. In 1972 they completed their 1st subdivision carving off 10acres which helped with the purchase of a 2nd farm in Shannon where they cropped barley and grew spuds. They were riding high on the agriculture sector and soon had their own truck to cart the barley into the rail head at Palmerston North – dad said they felt like big timers with their own truck at just 26 yrs old. They also doubled the size of the chicken broiler sheds at Addington Road increasing production to 30,000 chickens every 3 months supplementing the farming cashflow.
The family were dealt a huge blow in 1973 with the sudden death of Dads Mum Lorna, aged just 53 years old. Lorna passed on her generosity and hard working traits to the family.
1975 was a great year for Dad – firstly they able to secure 600 acres of freehold land and 250 acres of lease hold land at Forest Lakes. They funded this purchase by subdividing and selling the Shannon farm and subdividing the chicken sheds and house at Addington road and selling them. Secondly and most importantly because dad was convinced to meet a cousin of a friend's in Levin – Jacqui Orbell. After a pleasant evening he invited Jacqui to see his 1 day old chickens. The cute chickens and Dad's humour sealed the deal and they started dating. It wasn't long before Dad realised he was on to a good thing and proposed to Mum - tying the knot in Oct 1976 and moving into the old farm cottage at Forest lakes where they still live. This was the start of an amazing partnership. The 70s were a very busy but productive time for David and Stuart at Pritchard Bros. Buying farms, adding value, subdividing, selling, and repeating. They were hard working, innovative in their approach and entrepreneurial – diversifying and taking on new ventures which paid off for them.
We can't miss 1979 when their first child was born – a strong, good looking, ginga fella. The 80's saw them continue with dairying, milking 700 cows, farm contracting and further diversification into horticulture – first berryfruit, purchasing 20 acres at Addington Road again – the current site of our Land Matters and Pritchard Civil offices – the best property consultants and civil contractors around. Let JP or myself know if we can help with your next project! Dad would really like that!
Then came the horticulture boom and business took off. More land was purchased, kiwifruit, apples and stone fruit were planted and companies syndicated. Willow Park Gardens and then the Willow Park Group of companies were formed including the construction of a packing shed able to process 400,000 trays of kiwifruit and 250,000 trays of apples and pears a season. Head office was at Addington Road and new offices established expanding their reach to Auckland, Whangarei, Tauranga, Hastings, Nelson, Ashburton, Sydney and Melbourne. The group grew to 120 fulltime staff and 700 seasonal staff. The property empire grew on the back of this growth and so did Dad's expertise and network of contacts.
An extract from their brochure at the time:
WILLOW PARK GROUP LTD
is recognized for its approach and reputation.

has the people and experience.

has the drive and entrepreneurial spirit to succeed.

will expand on it's proven management base and traditional activities.

will diversify its activities into new areas.

will expand rapidly in both New Zealand and Australia.

will base that expansion on its traditional values of thorough research, sound management and sound investment principles.
Dad was ambitious and driven.
The 80s also bought the arrival of son John, Sophie and then baby Alice who completed the awesome foursome of kids.
Dad got his first directorship being asked to join the Horticulture Export Authority, he then joined the board of Ararimu Holdings a subsidiary of Equitcorp which was a booming listed corporate in the mid 80s. Dad and Stuart completed a number of successful real estate and horticulture deals at this time, investing all profits into the stockmarket and leveraging their position to buy more shares. The '87 sharemarket crash floored Dad and Stuart. They were left hugely exposed to the stock market and were also holding a number of devalued horticulture blocks. They set about the recovery selling their best assets and a whatever else they could. They knuckled down to repay debt and started fresh with the belief that one door closes another opens.
On reflection Dad said they wasted 13 years in horticulture trying to chase the big opportunities that just weren't there.
Pritchard Group emerged out of the sharemarket crash ashes completing small land developments in the early 90sin Horowhenua and Kåpiti . They had done well from land development over the years and when the opportunity came up to purchase land at Waikawa Beach they completed a small subdivision which got them back on track. They followed this with the purchase of the Lindale farm in Kapiti with partners Grant Paterson and Mike Welch creating 147 lots over a 20 year period. Dad was very proud that they had turned an uneconomic sheep and beef farm into a thriving community and new suburb (Nikau Valley) which had more trees and planting than there ever was on the farm.
In 1996 Dad was hit with another life changing event. He fell from a flying fox in a Rotorua forest breaking and dislocating his neck. Dad was in traction in Rotorua hospital unable to leave his bed for 3 weeks. It was during this time that Dad refocussed and decided he needed to prioritise the land development business. By this time Dad had developed a real strength and passion for business which was supported by his natural charisma, acumen and interest in people.
With this new focus he built a considerable staff of 40 who could take a land development project from conception to completion. This included the creation of a construction arm reigniting Dads passion for heavy machinery. Developments were completed with a number of different land owners becoming partners who remain friends with dad today showing a high level of respect and integrity in his dealings. In recent years when he was unable to sleep he said he would count sections he had developed from Matauri Bay, Paihia, Matakana Island, Taupo, Omori, Waikawa Beach, Waikanae, Paraparaumu, Wellington, Blenhiem, Kaikoura, Canterbury to Queenstown. He always had a strong ability to visualise the finished product and was immensely proud of the communities they created.
During this time he also forged a strong relationship with Herbert Houll from North Carolina. Herbert had a number of wealthy American clients wanting what Dad called a 'bolt hole' down in NZ. On his first trip to NZ he met with Dad, I think they shared a cigar and a few drinks and he said you're the man for the job David. They travelled extensively throughout NZ by helicopter looking at land and purchasing Kauri Cliffs for Julian Robinson, land in Coromandel and Queenstown for other clients. The business was thriving once again and in 2003 Dad was nominated for the Ernst and Young Entrepreneur of the year awards. He won the property/construction category and was one of 6 national finalists. One newspaper article at the Time reported that Pritchard Group owned $100M worth of residential developments. He was a big believer in surrounding yourself with the right people and was quick to note that he wasn't the smartest but had the smarts in his great team. He has a strong following of loyal team members including Monica, Alan, Rob, John, Bryce and Rich. During this time Dad had government appointed director roles at Wellington International Airport and later Housing NZ including chairing the acquisition and disposal committee. He was a director of Wellington Waterfront, Port Marlborough, NZ Rural Properties Trust and Stephen Tindalls Housing Foundation Trust. He enjoyed the energy, the numbers and was a valued member of the boards. I remember countless evenings where he would sit with his blue ink pen and highlighter sifting through big ring binders of financials and operations reports – he was always prepared for the meetings.
Dad always enjoyed a good party and he organized what is still known as a legendary 21st party for me. Not just the usual marqee and kegs – I had a mechanical bull that dad arranged from somewhere and a commercial fireworks display that had somehow fallen off the back of a truck. The Massey boys still talk about it.
Dad was a big believer in education and he always told us kids that we would be going to University and then we could do what we liked after graduation. He invested heavily in sending JP and I to boarding school at Scots College and Sophie and Alice to Nga Tawa. He was very proud to see all of us graduate from University, especially Sophie with a double degree in law and arts. In 2008 at 61 years old he faced his toughest challenge yet. 3 months in ICU in Wellington where he bought himself back from the brink after suffering a massive infection. He became a tetraplegic and then spent a further 10 months in hospital at the Burwood spinal unit. This was no easy adjustment for an action man who could hardly sit still let alone be confined to a chair. But with the unconditional and endless support from Mum and the family he never complained and set the goal of getting back home to Forest Lakes in Otaki which he did.
Over this time he has seen 3 of the 4 kids get married, the arrival of 8 grandchildren and been involved in business and property deals. A couple of things he must have really missed were boating, mowing the lawns and his Range Rover – not that he ever complained. He enjoyed the fruits of his labour in being able to get around the wonderful garden that he and mum created. He always said he didn't have the patience for golf so gardened instead – he was allowed to smoke a cigar in garden which helped.
Boating was his main hobby. We have had endless amounts of fun water skiing, biscuiting and wakeboarding behind the ski boat at Forest lakes, jet skiing and fishing in the Marlborough Sounds on Pacific Rover and then Vivuer which Dad owned with the Turner family. He didn't stay still in one place long enough to be a good fisherman but loved fresh blue cod, crayfish or raw scallops.
People were his forte. He always had a genuine and authentic interest in people and was amazing at remembering names. He continually asked questions – often direct "what are you earning", 'what's the turnover" which lead to 'how do you think you can double it, have you thought about this'…..He really wanted everyone to succeed. I remember dad offered my boss and I a car ride one day from Wgtn airport to the city. We got out of the car and my boss said wow – he knows everything about me now and I didn't even get a question in.
He was a good communicator and loved getting on the phone in the last few years. Every couple of days I would get a phone call. Sam, what's happening, oh yep, what else is happening, how's Alice and the kids, how's business, are you making any money, what else is happening. I always needed to have at least 3 pieces of news or questions for him.
He was also very generous, especially with his time and hospitality. Countless friends of ours would call for references for jobs or advice on business opportunities and many were accommodated at Forest Lakes or Matauri Bay and provided with copious amounts of food and booze. One of his biggest fears was running out of food. More recently with his love of 'medicinal licorice' meant Mum needed at least two spare packets in reserve at all times – I hope the RJ's licorice turnover doesn't decrease too much in the coming months
Dad was a true entrepreneur, a companies record search yesterday showed he has been a director of 91 different companies, ranging from housing companies to ice cream machine companies. He was inducted into the Kåpiti Horowhenua Business Hall of Fame in 2009 for business excellence, leadership and respect in the community, innovation, entrepreneurship and service to the community. In 2018 he was one of two inaugural inductees into the xOtaki College Allumini hall of fame.
The Positive Syndrome has been on Dad's office wall for as long as I can remember. It was given out to all new employees and still is and was also handed out to nurses at ICU during a stint there earlier this year. It reflects dads 'can do' attitude, never taking no for an answer and achieving your dreams! Since 2008 dad has had a team of dedicated carers and nurses at home and at ICU in Wgtn with whom he developed good relationships with. He enjoyed their company and they enjoyed his. A Special thanks must go out to these people from the family for taking such good care of dad and being part of the family. Especially Elaina who did a 5years and Cherie who has been with him for over the last 6 years. You will all remain special friends of our families.
Family, business and positivity were the key principles that you lived by Dad. Your honesty, generosity, work ethic, interest in others and strong sense of humour were key traits. Your 43 year marriage to Jacqui and the success of your children are reflection of you. You have instilled these same values in your children and inspired us to make sure they carry on to your grandchildren.
Thank you for all you have done.
Oh, and thanks for the lawnmower!
My 7-year-old old son Sam shared these with dad just last Wed:
How does a butcher introduce his wife – meat patty.
What's the best way to double your money – put it in front of a mirror.
What do you call a dinosaur with no eyes – I don't-think-he-saurus.