Anne's work honoured at museum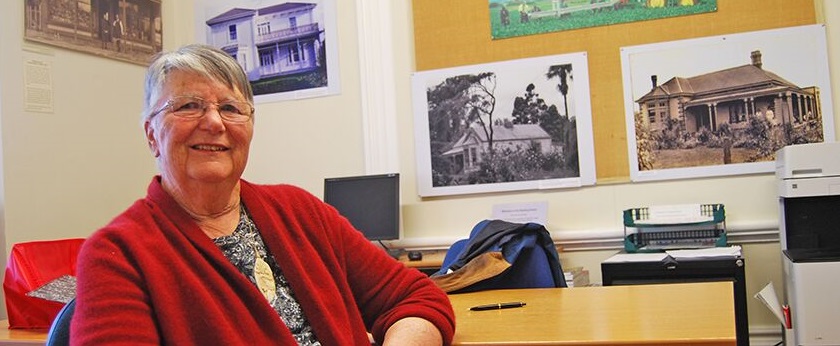 One of Ōtaki's tireless workers in the community has been honoured by having the museum reading room named after her.
The Anne Thorpe Reading Room was opened officially on September 28 to make the museum's historical resources more available to people. The public can browse the archives consisting of photos, oral histories, books, historical journals and more.
Judith Miller, chair of the Ōtaki Heritage Bank Preservation Trust, says it was fitting the new venture was marked by naming the reading room after the person who was instrumental in setting up the museum.
"Back in 2002, Anne Thorpe realised that this empty building could make a good home for objects, documents and photos that were all part of the town's heritage," Judith says. "She gathered a group of interested people, and together they lobbied, fundraised and rejuvenated the building. They set up our trust, developed policies, secured staff and made this museum the significant asset in our community that it is today.
"We are enormously grateful to Anne and her vision, and her ability to enthuse others to make that vision a reality."
Anne has a personal attachment to the museum. The building was a branch of the BNZ when she arrived in Ōtaki with her family in 1955. She soon got a job there, working with the inimitable and somewhat eccentric Daphne Meyer. Their lives would become intertwined further when Anne joined the Ōtaki Historical Society, of which Anne later became president and is now patron.
In the early 2000s, Kāpiti Coast District Council was about to sell the empty building.
"It was a mess, but I felt it needed to be saved," Anne says. "The historical society was using it for storage already, so it really made sense to have a local museum there."
After a public meeting and a $2000 grant from the Ōtaki Community Board, the trust was established and the museum became a reality. An annual $10 community services levy on Ōtaki rates, initiated by Barry Mansell, ensures continued funding for the museum.
Establishing the museum has been just one of the many Ōtaki community projects behind which Anne has been a driving force. That contribution is reflected in the many requests for her to be a patron as she has eased back in recent years from a more active role.
While typically reluctant to accept credit for her contribution, many of the community groups now taken for granted might not have been established in Ōtaki – or at least not as early as they were. That they were is testament to Anne's vision and ability to gather good people around her who "got on with the job".
"I suppose I'm an ideas person," she says. "I'd see a need for something and I'd be put the effort into get it going, but I was happy to let other people deal with the detail and carry it on."
For example, 29 years ago she was concerned that the community didn't have somewhere to go for general advice. Anne knew about the newly established New Zealand Citizens Advice Bureaux, so she worked with others to get it going in Ōtaki. She is a life member of Birthright NZ and was involved locally, and has had a hand in many other organisations.
Anne was also a JP and a probation officer, alongside raising a family and helping husband Peter with their market garden.