Taking the pressure to perform off club stars and emphasising enjoyment of the sport is proving a winning formula for the Ōtaki Titans Swimming Club.
Two swimmers, Kokoro Frost and Phoebe Nelson, have recorded the fastest times in New Zealand pools this year. Local swimmers have punched above their weight at competitions all year, and the coaching team have picked up a clutch of awards at the recent Swimming Wellington Awards.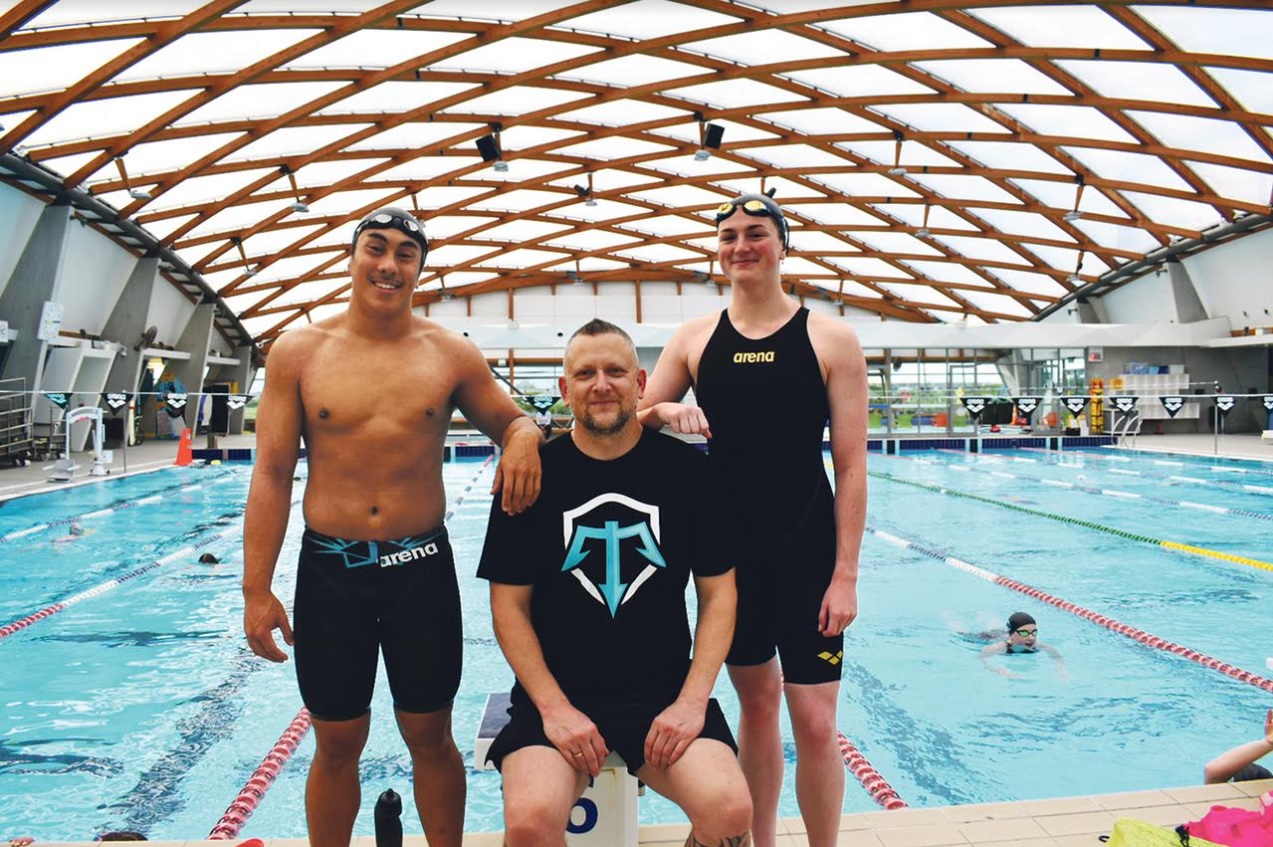 Head coach Seuga Frost won the club contributor of the year award, son Kokoro volunteer coach of the year, junior coach Stacey Faith an honours award and coach Jonathan Winter a service award.
Jonathan joined the coaching team earlier this year. As one who's seen and felt the pressure during a long career in the sport, Jonathan is keen to keeps a close eye on his charges' performance, but equally he wants to see them enjoy their time in the pool.
"We're disciplined as a group, but we have a lot of fun," he says. "It's a relaxed, family oriented environment that produces good people – becoming great swimmers is a bonus."
After the national swimming championships in August, the Ōtaki Titans rose to be the top club on the Kāpiti Coast.
At the time of writing, Kokoro Frost was representing Samoa and was Swimming Wellington's sole representative at the FINA World Swimming Championships in Melbourne.
As a competitor himself, Jonathan has represented New Zealand at the 1996 Olympic Games, three Commonwealth Games, and several world championships. He jokes that he's the famous room-mate of Danyon Loader after sharing accommodation at competitions with the great Kiwi swimmer.
Having also been a coach for more than 30 years, Jonathan's developed a keen sense of what helps young swimmers succeed in life as well as in the pool.
"There's no pressure," he says. "Our seniors have five training sessions a week, early mornings are optional and there's no long-distance endurance swimming. Many other clubs insist on nine or 10 sessions and push the swimmers.
"As a coach I look for speed and power and finesse – and having fun."
Part of the process is also getting away from the pool to build strength in the gym. He's fortunate that the 318 Fitness gym in Paraparaumu gives his squad free membership. The gym suits many of the older swimmers, who are now proving that it's no longer a young person's sport.
"It's not unusual to have world-class swimmers in their 30s."
Although it's based at the Ōtaki Pool at Haruātai Park, the Titans also train at the Coastlands Aquatic Centre.
The Ōtaki Pool has limitations for swimmers who compete in pools that are either 25m or 50m in length. Ōtaki's pool is 33.3m. The depth is also only 1.3-1.5m – compared with 2.4m at the Kāpiti pool – restricting the ability of swimmers to gain the advantage of diving deeply and swim for a distance under water.
The Titans club is not just about being competitive, however. It also offers opportunities for anyone to learn how to swim, with sessions for ages 7 and up.
It has the Dolphins and Marlins learn-to-swim programme for children who are still learning to swim and for those who have the basics. It builds fitness and stamina.
The junior Orcas have three sessions a week for swimmers wanting to compete or swim for fitness.
The senior Orcas are for the competitive swim squad who aim at qualifying for national competitions.​​​​​​​​​​​​​