News
Otaki Today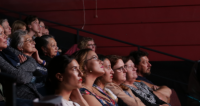 The Māoriland short film initiative NATIVE Slam III has been selected for the ImagineNATIVE film festival in Toronto.
More than 4000 films were submitted to the festival this year and Māoriland has five films in the programme.
NATIVE Slam is a 72-hour international indigenous collaboration challenge held in the week prior to the Māoriland Film Festival (MFF). Each year, Māori and international indigenous filmmakers gather in locations around Aotearoa to produce short films that then screen to an audience during the MFF. This year, all four NATIVE Slam III films will screen at the imagineNATIVE Film + Media Arts Festival in Toronto. In its 19th year, imagineNATIVE is the largest presenter of Indigenous screen content.
"The dream for the NATIVE Slam was born 14 years ago, on a Canadian road trip, snow falling, a Māori and an Aboriginal woman driving in a convertible (lid down) heater on 10, music blaring," says NATIVE Slam executive producer Libby Hakaraia. "True story! I was there. We even imagined ourselves as the Thelma and Louise of the Southern Hemisphere. We got plenty of stunned reactions from passing truck drivers and others on our long trip from Toronto to Ottawa.
"Pauline Clague and I have been wanting to do an international collaboration ever since."
In March 2016, just days before the Māoriland Film Festival, 15 indigenous filmmakers gathered around Aotearoa to make a film. They had just 72 hours, with a budget of $800 and in that time created five short films. These films were the first NATIVE Slam, proving that when passion, skill and a willingness to collaborate are combined, magic happens.
Since 2016, the NATIVE Slam has been repeated with indigenous filmmakers travelling to New Zealand from all over the world to make films.
In March 2018, four Māori filmmakers welcomed indigenous filmmakers from Canada, the US and Norway for the third NATIVE Slam, with teams based in Piha, Tāmaki Makaurau, Rotorua and Pōneke.
The filmmakers had to abide by 10 rules that enhanced the importance of a native perspective in the work, respect for craft, and economy of production. The themes of each film had to reflect the diversity of the native experiences of the filmmakers and the theme "For the love of Our Mother".
Four films were made, Moa Ma Le Pinko (Amberley Jo Aumua, Jesse Littlebird, Courtney Montour); Taonga (Lanita Ririnui, Trevor Solway, Shaandiin Tome); Te Kaitiaki (Asia Youngman, Isaac Te Reina, Razelle Benally); and Ara Marumaru (Kawennahere Devery Jacobs, Ken Are Bongo, Richard Curtis).
The NATIVE Slam III will also screen at the Bali International Film Festival in September. Taonga has been selected for Show Me Shorts, New Zealand's Academy Award-accredited short film festival.
ImagineNATIVE will also be the world premiere of MFF director Libby Hakaraia's latest short film. Filmed in Ōtaki at Tainui Marae, it will premiere at the Māoriland Film Festival in March next year.
KIDSCOIN
KidsCoin founder Brittany Teei and education director Teri Teei led a KidsCoin workshop for 130 rangatahi (youth) and their kaiako (teachers) from across Ōtaki.
Rangatahi were introduced to the concept of financial literacy and coding through tools like KidsCoin, Makey Makey and beads.
KidsCoin gives kids the financial and digital skills they need to be successful in tomorrow's world. It believes if our kids are taught good habits and mindsets towards money now, they'll make better financial decisions in the future. This will benefit them,
their families and their communities.
Using the Makey Makey tool they turned bananas into pianos and created jewellery using binary code to spell their names.
Makey Makey: An Invention Kit for Everyone, is an electronic invention tool and toy that allows users to connect everyday objects to computer programs. Using a circuit board, alligator clips and a USB cable, the toy uses closed loop electrical signals to send the computer either a keyboard stroke or mouse click signal.
This function allows the Makey Makey to work with any computer program or webpage since all computer programs and webpages take keyboard and mouse click inputs.
Māoriland plans to bring KidsCoin back again. If you're interested in accessing creative tech opportunities for rangatahi at the Māoriland Hub, contact Maddy de Young: maddy@maorilandfilm.co.nz
NATIVE MINDS: WĀHINE SUPERHEROES
What's your super power? NATIVE Minds presenters Rachel Taulelei (Kono Group), Brittany Teei (KidsCoin) and Lynell Huria (intellectual property expert) shared their experiences, insights and aspirations with an audience of wāhine at the Māoriland Hub.
This event was presented in anticipation of the upcoming launch of the Wāhine Toa Comic Book. Superhero reader
Tapahia Heke, who sees the superhero in everyone, sat down with 14 emerging Māori women leaders to describe their superhero alter egos.
The stories and pathways of these wāhine toa will inspire a new generation of women who lead. Watch this space for more!