News
Otaki Today
A new group has been launched to encourage residents to reduce the waste going into the Riverbank Road rubbish transfer station.
The initiative is born out of a successful community forum by Transition Town Ōtaki in May 2018 called "What a Load of Rubbish". The group, Zero Waste Ōtaki, has since then been working on solutions to the growing rubbish problem.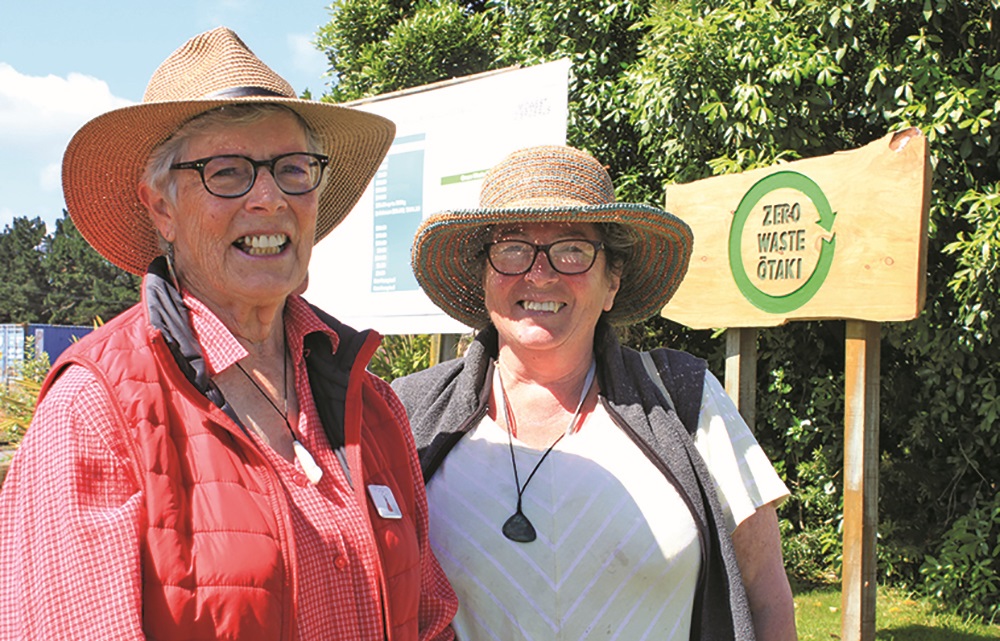 "The focus was on waste diversion from the landfill and the outcome was the decision to found Zero Waste Ōtaki," says Jamie Bull.
A large macrocarpa wood engraved sign was unveiled at the entrance to the transfer station on November 28.
Timber makes up about 10 percent of the waste and is a headache for Midwest and Envirowaste, the commercial operators of local transfer stations at Otaihanga and Ōtaki, who crush the rubbish to compact it before it ends up in the Hokio landfill or further afield.
"Wood takes up a lot of room in the waste stream and is a problem for the machinery used for compacting," Jamie says. "This makes recycling a win-win, and these companies are very supportive of the Zero Waste initiative.
"If we can make a success of this, we see it as a first step towards confronting some of the other, bigger problems of waste disposal. There is also a big saving instead of dumping wood and being charged by the weight."
The official opening date is Sunday, January 31, when waste timber can be dropped off and bought at the site. On the Sundays of December 13 and January 17, wood can be dropped off. After the opening, the facility will open from 10am-2pm on the last Sunday of the month.
A skip is available at the transfer station for wood deposits.
Matthew Luxon of Envision and Zero Waste Network, who addressed the community forum in 2018, sees the value of community networks to reduce local waste.
"The potential for collaboration between local communities and networks to increase their effectiveness is vital and is proven to work, if we change habits of how we deal with our growing waste problem," he says.
Zero Waste Ōtaki will also focus on community engagement and education, and pathways to jobs.
"We are keen for more volunteers to assist with sorting wood, de-nailing, stacking, pricing, selling, and even building items such as benches, dog kennels, planter boxes, for resale," Jamie says. "Once we have the wood recycling up and running fully with all the facilities, equipment and volunteers we need, we will then turn to the next stage towards our long-term goal. This could be mattress recycling, whiteware, e-waste and re-usables. While we're keen to look at green waste, these other areas are equally critical and must also be addressed."
Grants from the Ōtaki Community Board and Nikau Foundation, and support from local businesses such as Web2Print, Mac Engineering, Hammer Hardware and Ōtaki MenzShed, have helped to get the project off the ground.
A community waste minimisation scheme in Raglan diverts 75 percent of general waste from the landfill. It provides employment and access to resources. It operates a reuse shop, metal and wood yard, e-cycle drop-off, consultancy and mentoring, as well as waste audits and site tours.
WHAT: Good wood suitable for house or garden projects. Tanalised or treated timber, more than a metre long. Decent size plywood. Prefer small pieces to be nail-free.
DROP OFF DAYS: Sundays December 13 and January 17, from 9.45am. Sunday, January 31, for drop-off and purchase, 10am-noon.