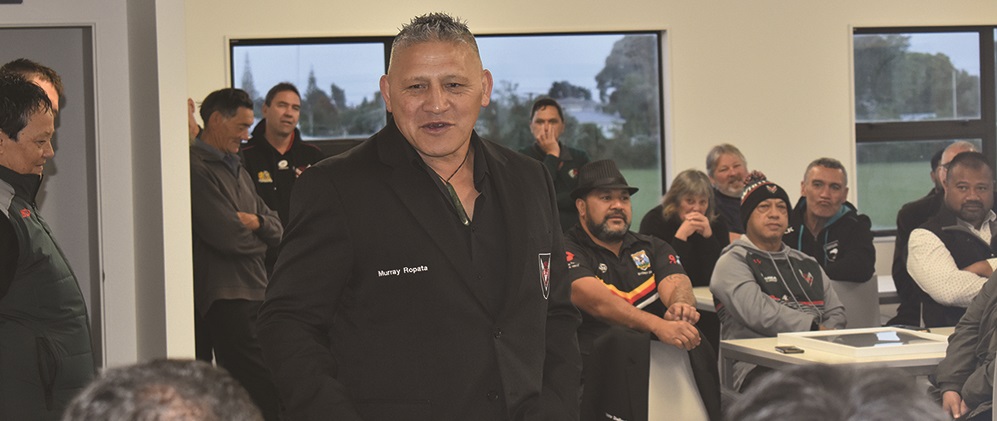 News
Otaki Today
The clubrooms of Whiti te Rā Sports Club were finally opened early on the Saturday morning of November 28.
The project has been 20 years in the making, but the long length of time seemed only to inspire the nearly 100 club members, players and past players, whānau and supporters who attended the 5am opening.
Murray Ropata, who's chair of the club's masters team (Legendz) spoke about how the club had to "make do" when it was first formed.
He and the other founding members, brother Robert Ropata, Jim Hapeta, Jimmy Seng, Graham Rasmussen and Bob Edwards played their first year of league in 1984-85, when the club hosted teams at Manakau, north of Ōtaki.
An ablution block was the only building available.
"We couldn't get fields in Ōtaki, so we made the best of what we had," Murray said.
By the early 1990s, however, the club had changing rooms and fields at the Ōtaki Domain. In 2000 they lifted the roof on the changing rooms and erected frames, installed windows and doors, and clad the walls.
But there never seemed to be enough money – about $200,000 – to complete the job.
"But we still looked after our guests," Murray said. "We have a reputation for hospitality. Teams have loved coming here. Now we have something we can all be proud of."
The big boost in the project came in 2019 when the New Zealand Community Trust made a grant of $150,000.
However, it was still not enough for Whiti te Rā to complete the clubrooms. The club has had to seek donations from supporters.
While Murray project-managed the build through his and wife Hinerangi's company, M&H Builders, he was full of praise for the club's hard-working executive committee, including co-chairs Kelly Anne Ngatai and Kimo Winiata.
Their commitment – and that of local firms and individuals who helped out – helped ensure the ultimate success of the project.
"We always wanted to have as much as possible work done and materials sourced from local firms. They've all done a great job."
The clubrooms include a large meeting room with windows overlooking the league fields, a kitchen, bar and toilets. A wheelchair ramp and furnishings have been installed, but a balcony outside – from where people can watch the games – is still to come.
The rooms will be used mainly for club activities, but will also be available to other groups, such as waka ama, and even for learning, such as te reo classes.
Whiti te Rā's premier league team has an enviable record, winning seven premiership league titles in a row, four in Wellington and three in the Manawatū competition.
As a whānau-oriented club, it has a strong support network for young sportspeople, fielding teams in school competitions.
There's also been success achieved with women's netball teams.
The achievements of the club on and off the sports field, including its commitment to the community, was said to have made a difference when it was seeking funding.