It's a simple idea that local artist Hohepa (Hori) Thompson hopes will catch on – let's speak some basic te reo Māori in our shops and businesses to reinforce Ōtaki's point of difference.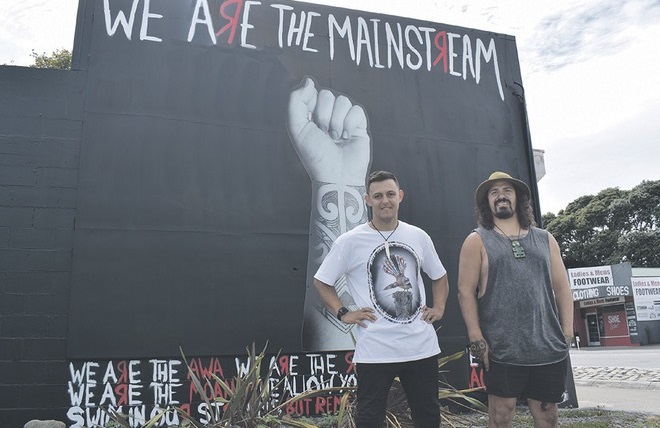 Hori and collaborator Hape ki Tūārangi Cook say it would make a huge difference for people to hear te reo greetings and see te reo signage when they visit Ōtaki.
"It's easy, right?" Hori says. "We can all say 'kia ora' or 'kā kite'. We can have our brand name in te reo and English, as well as garment labels and menus.
"Wouldn't it be great if every time someone came into a store they were met with a greeting in Māori? We want to put a bit of 'chur' in Ōtaki and have some fun with our reo so when people come through they leave with a smile on their face, and hopefully a bit more knowledge of our culture."
Hori says visitors would start talking about the town that truly embraces te reo, not just giving it lip service.
"If we did this and it really caught on, it could be a kind of wero [challenge] for other towns, too. Let them see if they can do better than us."
Hori (Ngāti Toa Rangatira, Ngāti Kahungunu, Kai Tahu) and Hape ((Ngāti Raukawa, Ngāti Toa Rangatira, Ngāti Whātua, Kai Tahu) are adamant they're not trying to force the idea on anyone – "It's just an idea." And it's not coming up with something new.
"Ōtaki is already a bi-lingual town. We would just like to see more people – Māori and Pākehā – using te reo more often. It's not difficult, but it could make a huge difference for visitors."
Although Hori is based at the highway shops, he says business people throughout Ōtaki could be part of it, too.
"This is for everyone. I hope it will become the norm in every part of Ōtaki."
The concept is not something about which the two men have canvassed the community or other organisations. They say it's simply an idea, and they don't want it to be bogged down with bureaucracy that can become too formal and stifle creativity. They want it to have a life of its own, developing simply because it's the right thing to do.
It doesn't mean they're not serious about it, however. Hape, who has worked previously on the website for Te Wānanga o Raukawa, has built a new website to back the idea. Found at churotaki.co.nz the site is a place where people can sign up for the concept, learn some basic te reo, get tips about how to implement the idea and share their own ideas.
A hui at Hori's main highway art gallery planned for 5.30pm on Wednesday, March 17.
"It would be an opportunity to come in and kōrero about what they think about the idea, and get some tips about how they can do this."
Hori wants to continue the meetings to encourage business people and see what works.