News
Otaki Today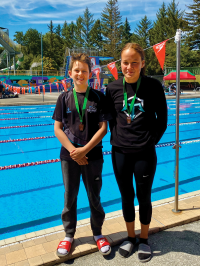 Two recent weekends of regional competitions have confirmed local swimmers Riley Cohen and Neveah Gardner as rising stars.
The pair took a clutch of medals at the Wellington region swim meeting in Kilbirnie on January 30-31, and at the Manawatū age group meeting in Palmerston North on February 6-7.
Neveah, 12, won five medals in her age-group events at the Palmerston North championships, winning three silver (50m and 100m backstroke, and 50m butterfly) and two bronze (100m and 50m freestyle), competing against the best in the Manawatū region.
Riley, also 12, won a bronze in the 100m butterfly. It was at the Wellington meeting the weekend before, however, where Riley starred.
Swim New Zealand had introduced a new event to inject more fun into swimming meetings – a 50m kick board race. It's essentially competing with a flutter board, using the legs to propel the swimmer through the water. Its success in Wellington is likely to lead to it being a regular event on the swimming calendar.
Riley won the event for 12-year-old boys; Neveah received a bronze in her group.
Riley's mother, Renee Cohen, says the win was a surprise.
"We knew he was a good swimmer, and Seuga said he would do well, but the win was out of the blue," Renee says. "Obviously kicking is an important part of swimming, but this just showed how strong Riley is in the legs."
Seuga Frost is the head coach of the Ōtaki swim club, the Titans. She's been in the role for the past three years, along with a junior assistant coach and a learn-to-swim coach.
Seuga says Neveah and Riley have a bright future.
"They're currently near the top of their age group," she says. "There's a big commitment with swimming – training in the early morning, in the evening and at weekends.
"If they stay committed, they'll do well."
Other swimmers with the Titans also have promising futures. Neveah's younger brother, Kupa, 10, just missed out on medals in the highly competitive 10-year-olds group at Palmerston North, and Georgio Bevan, 12, and Samantha Baillie, 10, attained personal best times. Another star, Penny Tulloch, 12, had a personal best in Wellington but was not able to compete in Palmerston North.