News
Otaki Today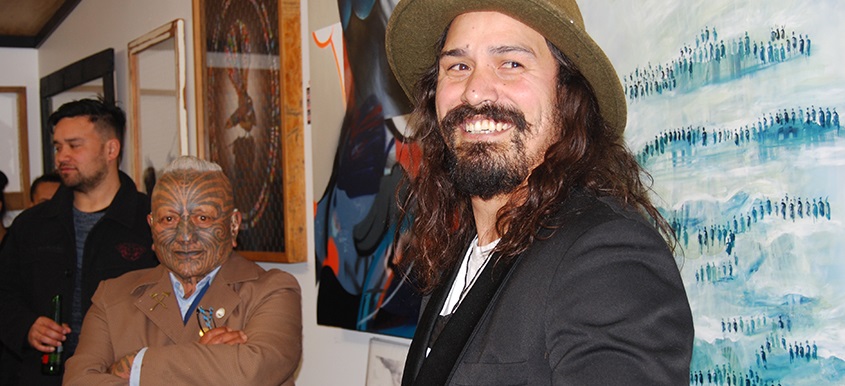 Artist Tame Iti was in Ōtaki on Saturday (September 7) to open an exhibition of his work at Te Whare Toi o Hori.
A large crowd packed the gallery to see and hear the renowned Tuhoe activist who had several paintings on display. The works were exhibited alongside those of Ōtaki artist and gallery owner Hori Thompson, as well as other regular gallery contributors.
Hori says the pair had been discussing a collaboration for some time.
"I've been up to Ruatoki a few times to kōrero with Tame, and I convinced him to come to Ōtaki for a joint exhibition," he says. "He's a great artist, and well respected as we saw from the crowd that turned up."
Tame and Hori first connected when Hori created Tame vs Osama, a painting that morphs the faces of Tame and Al Qaeda leader Osama Bin Laden.
"It was to get people thinking about what a terrorist really is," Hori says. "Tame has been called a terrorist because of his activism for the Tuhoe people."
Speaking at the exhibition opening, Tame said everyone saw something in art, "in colour, shape or form. As artists we're here to provoke your senses and start the conversation."
He was pleased to be in Ōtaki, where he says he has ancestral roots. "I've got connections with Ngāti Raukawa through my people who came down from Waikato."