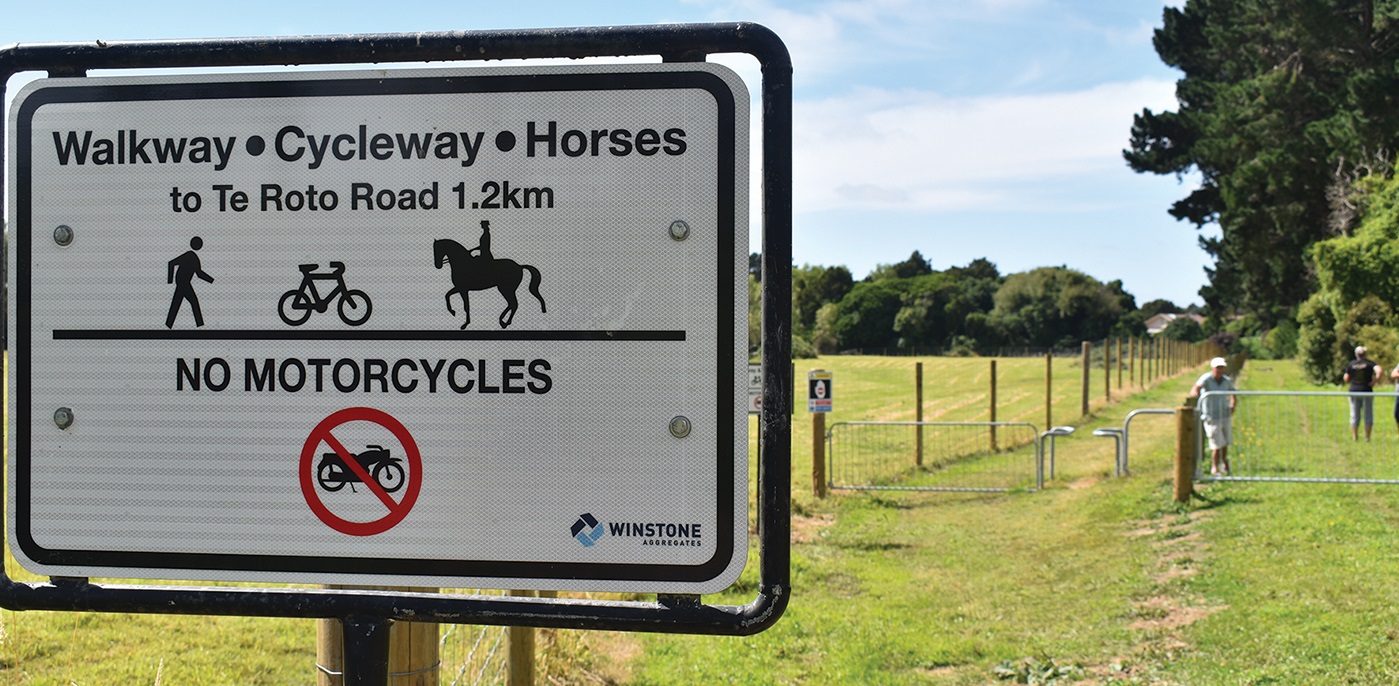 Stoush erupts over Ashford Park track
A stoush over a track between Te Roto Road near the race course and Chrystall's Bend has erupted after a community liaison group received angry emails and phone calls from users.
Walkers and cyclists saw red after their four-year-old track was allocated by land-owner Winstone Aggregates to horse riders, with a new, less suited track provided for them. Several voiced their concerns at an Ōtaki Community Board meeting on February 2.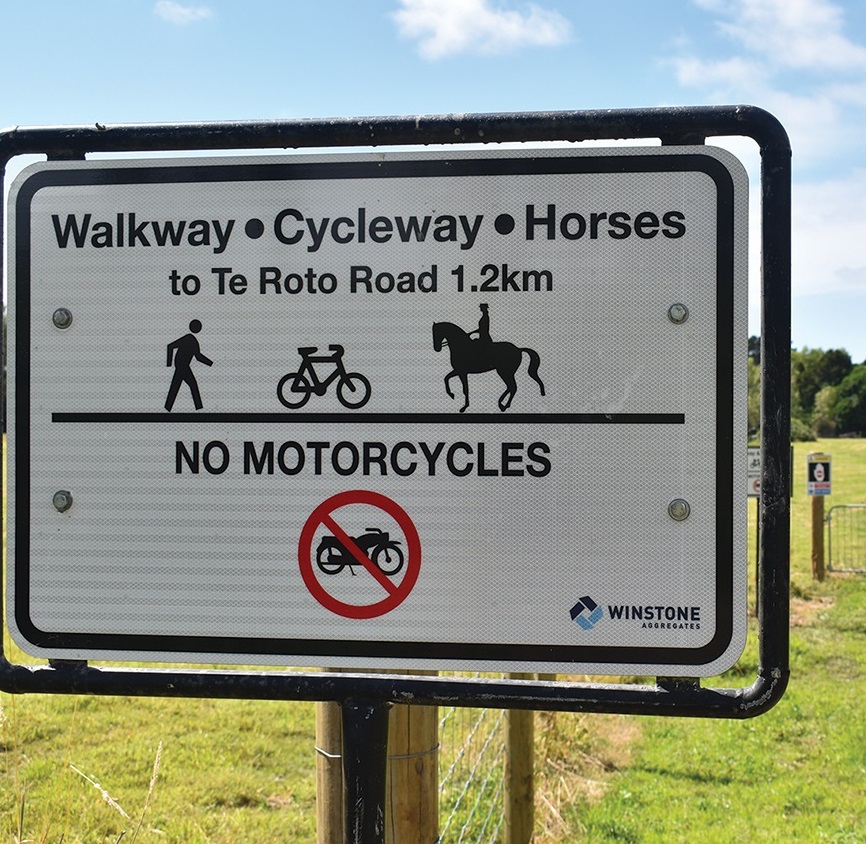 However, Ōtaki Today understands a solution might be close – a proposal by the Ashford Park Community Liaison Group to switch the track use, giving the pedestrians their track back and putting horses on the new track. That solution is supported by regular users.
Liaison group chair Di Buchan, who has been receiving angry emails on the matter since Christmas, would not reveal what the proposed solution was until an agreement had been reached between Kāpiti Coast District Council and Winstone. She expected this fairly quickly.
Equestrians have lobbied for equal access to the track since it opened. The equestrian representative to the council's Cycleway, Walkway, Bridleway Advisory Group, Ruth Halliday, says she had been told by council staff at the time that it would also be available for horses.
"When we found ourselves locked out, we began the process of getting access," she says.
However it's understood that part of Winstone's consent to use the land for quarrying was that a track be provided only for cyclists and walkers.
Kapiti Equestrian Advocacy Group chair Shelly Warwick, who is also a member of the Ashford Park liaison group, says horse riders happily share many tracks around the district with walkers and cyclists, some tracks more narrow than the original Ashford Park track.
"We do not understand why we cannot share here," she says. "The decision to build another track was one made by Winstones who are the private land owner. Our ultimate goal is equal access. The decision of how we use these tracks is one for Winstones."
The liaison group agreed at its meeting in November to amend the track to provide for horse access. The implications of a late decision to switch the walking/cycling track to the new, more narrow corridor was not appreciated at the time. However that changed with the flood of objections.
The problem, say the regular walkers and cyclists, is that their new track is not fit for purpose. The wider track is ideal for them, they say. It's shaded, wide enough for cyclists, walkers and people with dogs to pass each other safely, has an even and well grassed surface, and is traversed daily by multiple users.
Their new walking track, grafted from an adjoining paddock, is narrow, uneven, lacking shade, and with no landscaping it has little aesthetic appeal.
Cyclists say they can't ride on it.
While Winstone has maintained the track, users and nearby residents have also looked after it themselves.
For several months, Rāhui Road resident Richard Wyn even took a lawn mower to the track to keep the surface tidy, and others took pruners with them on their walk so they could clear branches and scrub.
Angela Ford uses the track regularly as a walker and cyclist. She's angry that horse riders seem to have been favoured above other users.
"It was we, the users, who looked after the original track and made it attractive. There was no consultation with us [about the change]."
She says she supports access for the equine group, but not to the detriment of others.
"In fact, we believed the new track was to be used by horse riders, allowing everyone else to keep using the track we've always used. That would have been fine. But then we found that without consultation we were all pushed on to the inferior track for the sake of a few horses."
She says she supports a solution that would allocate the new track for horses.
In a statement to Ōtaki Today after print deadline, Winstone said that in 2015 it constructed a 5-metre-wide private walkway for pedestrian and cycle access as part of its resource consent for using Ashford Park.
"Since this time, an increasing number of horse riders have also indicated they would like access to the walkway," the statement said. "We want to work constructively with our communities and stakeholders. While our resource consent required a narrower 3-metre walkway only, even at 5-metres wide we felt the current walkway, which is fenced on both sides, could not safely accommodate walkers, dogs, cyclists and horse riders.
"To ensure everyone's safety and accommodate more community users, we constructed a further 3-metre-wide corridor adjacent to the original one. The design and proposed use of the new 3-metre corridor was considered and agreed to by the Ashford Park Community Liaison Group. We are currently working through community feedback on the designation of the walkways with the Kāpiti Coast District Council."