Article
Otaki Today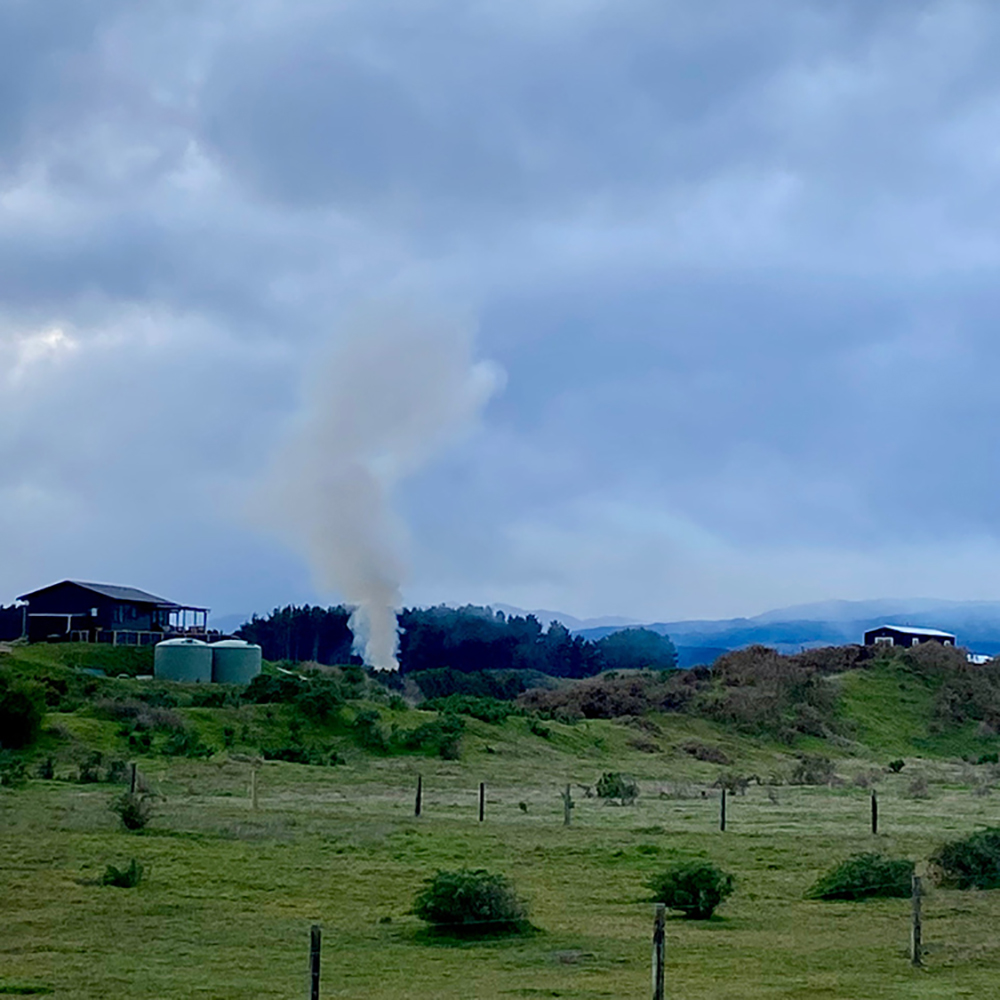 And there at dawn, from behind the low hill, a thick column of grey smoke pushes up towards the sky, becoming thicker after about 20 metres and then forming itself into a broader cloud as it meets moving air.
Half a dozen paddocks away someone, solving a problem for themselves, has lit a green waste fire. For now the smoke drifts away, away from them and away from us. It forms a hazy screen over the golden glow from a rising sun largely hidden by clouds.
The fire has plenty of fuel, but as morning wears on the wind shifts. By lunchtime the smell of smoke is heavy by the front door.
I'm relieved I chose not to do washing today, but am sad I have to keep all the doors and windows shut tight. I try to avoid going outside.
Now this unknown person's solution has become my problem. This is no tiny trickle of smoke from a household woodburner. This is a mass of unhealthy offensive particles produced by someone who didn't feel like letting nature take its course or removing their green waste to one of the region's approved stations.
In order to save themselves some space or a few dollars they're dumping their offensive waste on the rest of us.
This week it was this fire. Last month it was another one several kilometres away, but the smoke was clearly visible for days. A few months ago billowing clouds of smoke from the other direction led to five days of sore throat misery, rewashing three loads of clothes and bedding and then having to dry it all indoors with the house sealed.
It's hard to discover who's in charge of regulating and monitoring such outdoor fires, but it seems to be a combination of Fire Emergency, the Regional Council and the District Council.
It seems Fire Emergency allow the fires.
Horizons Regional Council strive to maintain clean air in the region and say "smoke from open fires must not go beyond the boundaries of your own property."
Meanwhile Horowhenua District Council manage smoke nuisance complaints.
It's handing off the problem on a large scale.
How hard it is to understand why in this era of heightened concern for our health and environment such outdoor fires are even permitted at all. We don't allow people to dump their rubbish on the side of the road, or to tip old engine oil into the streams.
Why is it that folks can pour smoke into the air?
• Miraz is a Waikawa Beach resident and blogger. See www.miraz.me and lovewaikawabeach.nz