News
Otaki Today
Ōtaki's manaakitanga took a hit on July 28 when protesters scared children and yelled obscenities into one of the town's most revered places.
Hearing that Prime Minister Jacinda Ardern was to visit, about 50 people protesting against the government's Covid response and harbouring other disparate grievances gathered outside Raukawa Marae in the pouring rain. They carried Voices for Freedom placards and waved a range of flags, including that of tino rangatiratanga. Many had travelled from out of Ōtaki, prompting one local observer to comment that the Ōtaki contingent was "well outnumbered".
Forewarned, a solid contingent of police protected gates and other marae entrances. It didn't take long for the protest to turn ugly.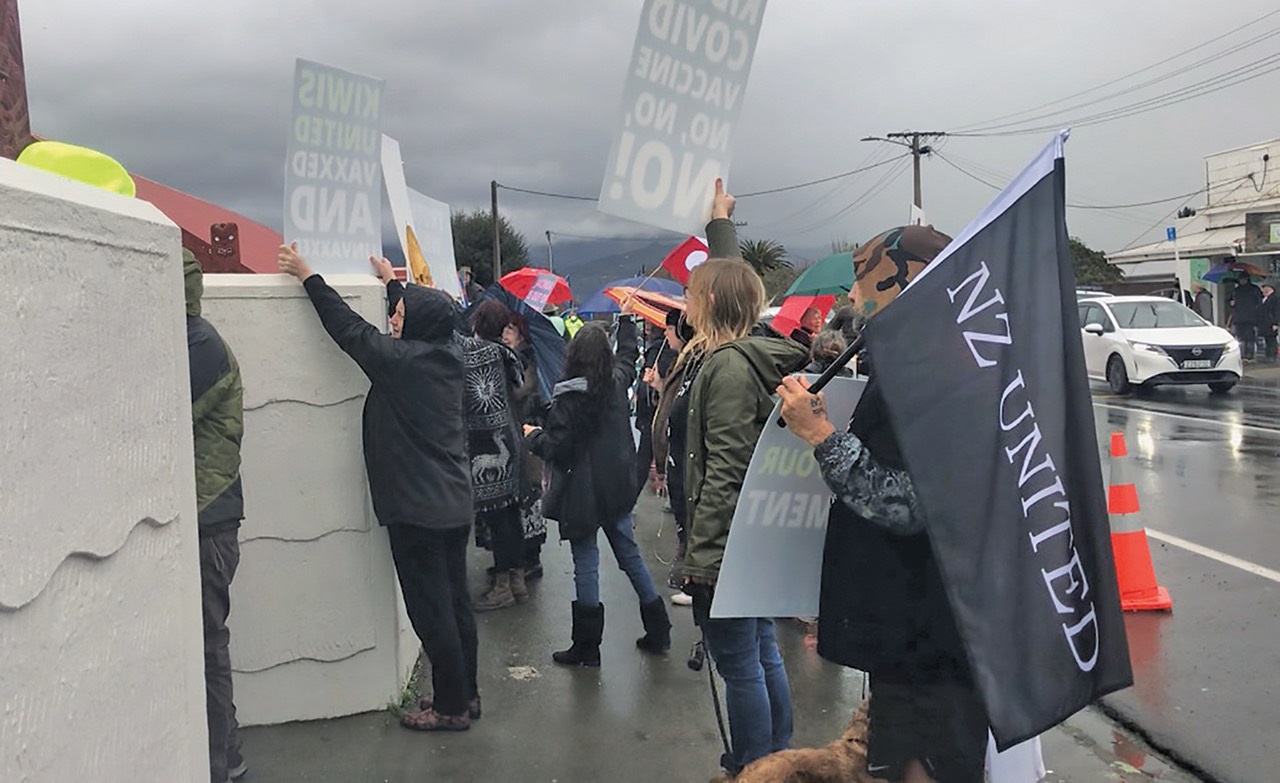 The prime minister arrived to taunts of "kūpapa" (traitor) but appeared to be unfazed. As is the custom for occasions such as this, the pōwhiri was for invited guests only.
Faced with a concrete wall and burly police officers, protesters held signs over the wall and chanted into the marae in an effort to disrupt the traditional warm welcome for distinguished guests that was occurring inside.
Some attempted to force entry through a gate at the south-east corner of the marae, claiming it was their marae, too, and they were entitled to enter. Under the watchful eye of the police, marae members managed to talk them back out.
Those discussions were often marred by several vocal protesters who hurled profanity-laden insults, One Māori police officer was told: "You're a disgrace to our people."
In one particularly angry incident, one woman said police were complicit in the murder of children. Pointing into the marae, she said: "They are indoctrinating our children for paedophilia."
Another told police, with no hint of irony: "We fought for you in Wellington."
As the only media in attendance, Ōtaki Today was at one stage prevented from covering the protest, with one woman pushing a placard in front of the camera.
Meantime, inside the marae, the foul language and angry voices could be heard by the guests and children who were there to talk with the prime minister. It's understood some of the children were so upset that their parents were called to pick them up.
Ōtaki MP Terisa Ngobi, who invited the prime minister, said the event was an opportunity for the PM to see how Ōtaki was working together as a community in its Covid response and recovery. Giving rangatahi a special chance to meet with her was a big part of that.