News
Otaki Today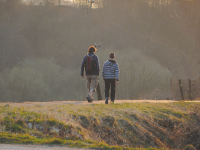 What does it mean to be a man?
Those and other questions about manhood are revealed in a national "rite of passage" programme that's receiving support in Ōtaki through a local woman, Andrea Wheatley. Andrea, who already runs the Shinegirl programme to empower girls at Ōtaki College, is keen to see local boys attend the Pathways to Manhood programme in Whananaki, in the first week of the April school holidays.
Pathways to Manhood offers a four-day programme for young men aged 13-15 and their father or mentor. It's held in coastal Northland, in a camp village style that creates a dynamic, powerful experience to help boys develop into "well rounded young men".
"More than ever now, teenage boys need mentors," Andrea says. "How are they going to know and appreciate what's ahead of them without proper guidance.
"They need good mentors to help them on that journey. Spending time with their father or mentor in this intentional environment can really solidify bonds and family values."
Sam Ward, a teacher at Ōtaki College who also runs the successful Manukura GPS programme for boys at the college, agrees.
""We underestimate how liberating and empowering it is for our rangatahi to have someone stand alongside them during their journey and believe in them, beyond all doubt," he says.
The Pathways programme is run by the Essentially Men Education Trust. Its programme information says: "When a boy is recognised as a young adult through the rite of passage framework, he can begin to practise all the relationship strategies that will serve him well as a man when he finally leaves the parental environment – qualities such as respectful behaviour, trustworthiness, responsibility, and honouring one's word."
A parallel programme supports mothers to meet their son anew as they transition home and beyond into adulthood.
As with courses such as Outward Bound, there is a substantial cost, especially for families struggling financially. Andrea is hoping someone might help contribute towards sponsoring a local boy to attend with his father or mentor.
If anyone is keen to attend but finances are an obstacle, Andrea says she might be able to help if sponsorship becomes available.
• For more information, contact Andrea on 021 866 010, pathways@essentiallymen.net or go to www.pathwaystomanhood.co.nz