News
Otaki Today
Larry Alexander Morgan QSM
For services to canoe sports and viticulture
Larry Morgan grew up on a market garden property in Te Manuao Road, Ōtaki, so the land is in his DNA.
It was perhaps no surprise that he was awarded a Queen's Service Medal in last month's Queen's Birthday honours, for his work in viticulture. More of a surprise to some Ōtaki people who knew him was that the award was also for services to canoe sports.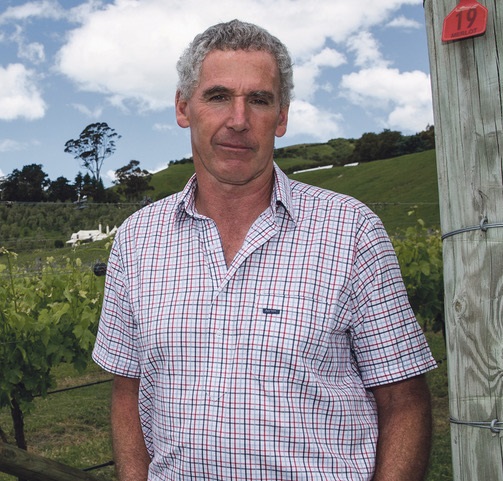 Larry has the distinction of having established the horticulture block at Ōtaki College, successfully revived recently by Mike King.
After attending Waitohu School and Ōtaki College, Larry went on to do a degree in horticulture at Massey University. Back in Ōtaki, he covered for a physics and chemistry teacher at college in late 1979.
Told he could have what would be a new role as a horticulture teacher, he did a year of teacher training and returned to the college in 1981. He stayed for four years, during which time he developed the horticulture block.
"There were a lot of kids at college from market garden families in those days, so horticulture was seen as a logical way of keeping them interested," Larry told Ōtaki Today.
During his time at Ōtaki College, he was drawn unexpectedly into an interest in kayaking. Fellow teachers Dave Hoyle and Eddie Bisdee took Larry for a weekend kayak trip on the Rangitikei River, which hooked him on the sport.
"I took to it as a recreation, but then my son took it up," Larry said. "Sam represented New Zealand and there were trips overseas, so I just trailed around after him and got on to committees and so on, as you do."
Larry left Ōtaki with wife Cindy and did some travel overseas before returning to teaching at Taradale High School in Hawke's Bay, where Cindy had grown up.
The teaching lasted only a couple of years before he took a research job for seven years at MafTech, now Plant and Food Research.
Originally the job involved about half each researching viticulture and stonefruit, but it gradually grew to be entirely viticulture. He was appointed secretary of the New Zealand Grapevine Improvement Group in 1988.
In 1994, Larry's big career move came when he was appointed as Te Mata Estate's first ever viticulturist. He was there for 27 years.
During his time with Te Mata he developed the winery's Woodthorpe Terraces and the Isosceles vineyards.
As viticulturist, he worked to improve grape clones, shared knowledge with industry groups, hosted industry trials and organised the importation of improved grapevines.
Meantime, he continued his interest in water sports, and became secretary of Hawke's Bay Canoe Polo (2007-11), secretary/treasurer of Hawke's Bay Kayak Racing (2010-15), and national secretary of New Zealand Canoe Slalom (2006-09). He managed two New Zealand U23 teams to the Australian Canoe Slalom Championships, and was a canoe polo referee and coordinated Hawke's Bay's referees for eight years.
He coached canoe polo for Colenso and Tamatea high schools, organised the 1992 New Zealand Secondary Schools' Winter Triathlon and
co-organised the 1993 Secondary Schools' Canoe Slalom Championships.
Within the wider Hawke's Bay community, Larry has been a member of Civil Defence since 2011 and is its local volunteer manager. He was
a member of parent teacher associations in Taradale for 12 years, with 10 years as chair.
After more than three decades in the wine industry, most of which was at Te Mata Estate, Larry retired in September last year.
"I'd got to 65 and people asked why I was retiring. It wasn't because I didn't like the work, I just wanted a change, and it was time for someone else to come in with new ideas."
It's not, however, the end of his involvement with the wine industry. After doing a post-graduate diploma in spatial science at Massey University in 2021, he recently established a company, Know to Grow Ltd.
The business does detailed web-interactive GPS mapping for vineyards and orchards. It allows them to accurately apply precision horticulture – from identifying hazards for contractors to localised spraying and fertiliser application.