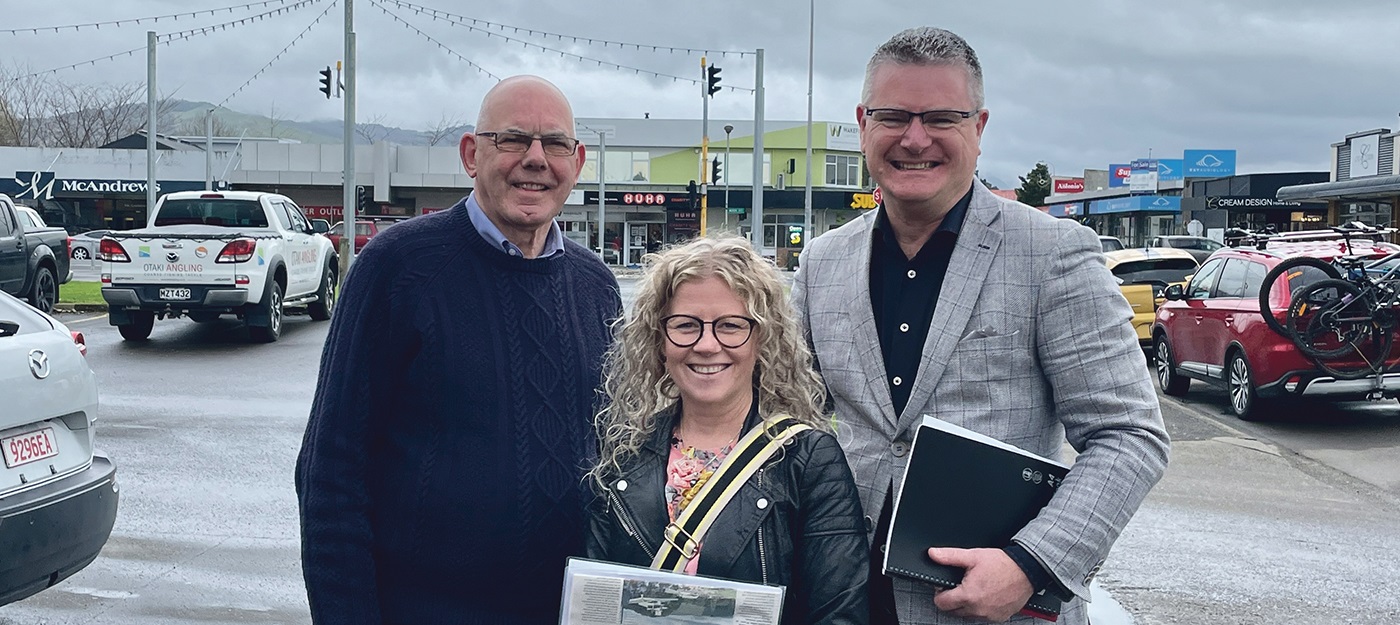 News
Otaki Today
A new retail and investment strategy focused on the Ōtaki highway shopping district is being developed by First Retail Group, a Wellington-based retail strategy firm.
Engaged by Elevate Ōtaki, First Retail has just begun working with local businesses and commercial property owners to see how the shopping precinct can strengthen its "destination recognition and value, consumer proposition and experience, and economic resilience".
First Retail managing director Chris Wilkinson says some retailers have built their business around and benefited from main highway traffic. But that will change when the expressway opens at the end of the year.
"The Retail and Investment Strategy will explore how the area and its traders can maintain consumer awareness, preference and destination value, when and after the expressway opens," Chris says. "Following the opening, revocation work will begin, that is planned to improve the townscape and street-space. This construction is likely to be impactful for business and consumers, which the strategy will address through mitigation recommendations."
He notes that one challenge will be that the expressway will also make it easier to access competing shopping destinations to the south.
"This means Ōtaki businesses will need to focus firmly on local consumers – providing the products and experiences that residents want and aspire to – to maintain spend and goodwill."
The strategy will engage with local and district-wide consumers to develop an up-to-date understanding of their needs and expectations.
Residential growth, employers establishing in Ōtaki and new neighbourhoods – such as the recently announced project at the Ōtaki-Māori Racing Club, will see more people living and working in the area. This will increase demand for products, services and experiences – which local businesses can capitalise on through insight developed within the strategy.
Chris says Ōtaki's new identity – "Manaakitanga: Small town, big heart" – has been shaped by the community and provides a strong platform for businesses and the area to differentiate and strengthen awareness of the area as a leisure and recreation destination.
"The strategy will explore how the brand, and the culture of manākitanga, can weave its way through the streetscape, destination promotion, customer experience and area recognition."
A key factor is Ōtaki's rich cultural heritage, which sets the town apart both regionally and nationally. The strategy team will work with Te Wānanga o Raukawa and iwi to understand how these themes can respectfully be represented.
Big events, such as the Ōtaki Kite Festival and Māoriland Film Festival have also developed national recognition. Through the strategy, opportunities for the area to further enhance its "gateway" role for visitors to these and other events will be identified and developed.
Te Horo and Ōtaki's Main Street township won't be ignored in the strategy. These localities form part of the broader consultation, which will help determine strategies to build destination value for the area.
Chris says he's looking forward to delivering the project, in partnership with funders Elevate Ōtaki, commercial stakeholders and the community.
"Managing challenges and developing and enabling the opportunities identified through this work will give businesses the best chance for success as this area continues to transform," he says. "Timing for the project is especially beneficial, enabling recently announced developments and other recent opportunities for new audiences, to be considered and provisioned for."