New World's Tim turns 50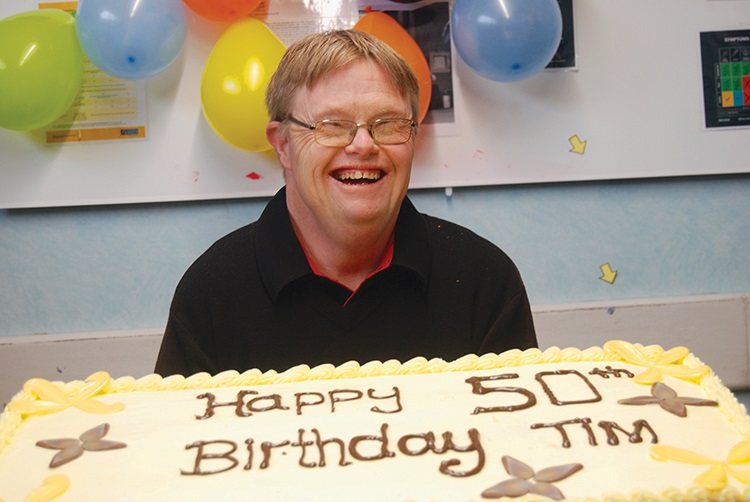 Tim is 50, celebrating his birthday with other staff at New World Ōtaki on June 11.
The seemingly ageless and friendly face of Tim Faith has been missing from the staff list for the past few weeks as the Covid-19 lockdown kept him at home looking after his mum, Marie. But now he's back at the Ōtaki supermarket, just in time for a celebration to mark his birthday.
Staff made him a special cake – recognising not just his age milestone but also his 33 or so years as part of the Ōtaki shopping scene. Tim has worked at New World Ōtaki since his teenage years, starting about 1986-87 (no one's quite sure of the exact date) and turning up for work like clockwork ready to greet customers, gather trolleys and help them with their groceries.
As a man with Down's Syndrome, Tim has enjoyed life to the full, participating in special Olympics sport and with interests much like anyone else his age. He's a huge All Blacks fan, watching with interest all their big games.
He has won swimming medals at the Special Olympics in Ireland and although he's now 50, still swims at least twice a week to keep fit. He also plays bocce, a boules game similar to petanque, and goes weekly to Pilates classes taken by his sister-in-law, Stacey Faith.
He's the youngest of four children to Marie and Paul Faith. His dad died several years ago.
He now lives with his mum just south of the new fresh milk outlet at Te Horo run by the Faith family farm. Tim's great-grandfather, John Faith, built the Te Horo general store in 1911. Morphing eventually into the Red House Café, the historic building burned down in July 2015.
The family has always had an interest in horses, and Tim has been to the Melbourne Cup, when a horse owned by the family ran in one of the event's races.
Born and raised in Ōtaki, Tim went to kindergarten here and was briefly at St Peter Chanel School before joining a special needs class at Levin School, and later Waiopehu College in Levin. In the last couple of years at Waiopehu his teacher, Bet Mills, organised for him to gain some work experience at Ōtaki's New World, which was previously Self Help in Ōtaki Village, where Curry Town is now.
Marie says Bet was keen to find a full-time job for Tim, so she approached the then owners of New World, Don and Lee Richardson.
"That was Tim's first job and he's still there."
New World moved to the highway several years ago, and four other owners have been Tim's employers – Alison and Andrew Cranston, Mark and Denise Dowman, Jackie and Mark Kennedy, and current owners Steven and Janine Cole.
Steven says Tim is a valuable and reliable member of their team.
"Having worked in the store since it opened, he's a much loved and valued team member," Steven says. "He always turns up to work with a smile and a cheeky disposition.
"He's well known and loved by the customers at New World Ōtaki and is quick to help at any opportunity. His infectious smile and willingness to help make him a real asset to the Ōtaki team."