News
Otaki Today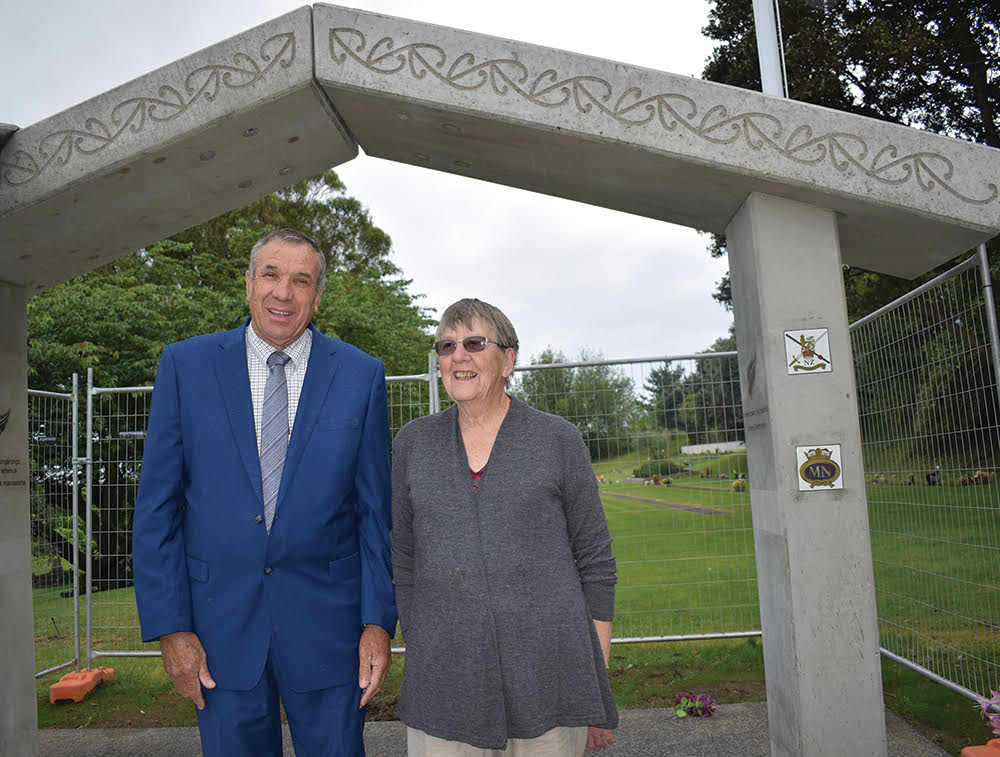 The Memorial Gates at the entrance to the services section of Ōtaki Cemetery were opened at 10am on Armistice Day, Tuesday, November 11.
The Armistice Day Service was also held at the cemetery, at 11am.
The gates commemorate 100 years of the Ōtaki RSA in 2019. The then-Minister of Veterans Affairs, Ron Mark, committed in July last year to funding the entranceway, which coincides with refurbishment of the lower cemetery. Many of the headstones were sinking into the ground.
The RSA group co-ordinating the gates and refurbishment project was led by Tom Mutton, who died during construction of the gateway after many years of illness. Tom, David Ledson and Rupene Waaka worked with Veterans Affairs contractor Chris Fraser to develop the plans. The gateway work was contracted to local company Concrete Doctors.
Veterans Affairs provided total funding of $100,000 and Kāpiti Coast District Council paid for a pathway and other works.
The gateway will lead people in to the services cemetery, and will help to commemorate the men and women who are interred there.
The general design reflects the significance of the Māori commitment from Ōtaki and the wider area that the Ōtaki RSA represents, from the Waikanae River in the south to the Waikawa River in the north.
The gateway has the military symbols of the Army, Navy and Air Force, as well as the Merchant Navy that operated the convoys crossing the Atlantic and the Arctic during the Second World War. Descendants of all four services are members of the Ōtaki RSA.
Ōtaki RSA president Mike Fogarty said last year that the gateway would be a lasting memorial of the 100 years of the local RSA.
"This gateway sets the path for the next 100 years," he said.
The cemetery, including the Services section, is owned and maintained by KCDC. Veterans of New Zealand campaigns since the First World War are interred at the cemetery.
Two graves of other allied service people – Polish veterans – who were not part of the British Commonwealth are also buried there.
Veterans graves are maintained in a joint agreement between KCDC and the Government through Veterans Affairs, and under Commonwealth War Graves provisions.
The gateway has the inscription: In times of peace, dwell peacefully, in times of war be brave." I ngā ra o te pai, hei pai; i ngā ra o te kino, hei kino.