Gazbos honour Hinga with life membership at annual dinner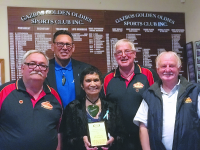 Even the appearance of an All Blacks captain couldn't overshadow a special night for Hinga Gardiner.
Hinga was honoured with life membership of the Gazbos Golden Oldies Sport Club at the club's annual dinner on Saturday September 12 . The dinner – with numbers restricted to only 100 because of Covid-19 – was at the Rāhui Rugby Club and an opportunity for Wayne (Buck) Shelford to fly in from North Harbour to mingle with some of the people supporting New Zealand grassroots rugby.
The 22-test All Blacks captain noted that awards such as that for Hinga were not handed out lightly.
"It's a very special honour, so congratulations," he said.
The award was for 20 years of selfless service to the Gazbos, a group of players and supporters who continue their involvement with rugby by playing social "golden oldies" matches, travelling – often overseas – and fundraising not only for the club but also local causes.
Hinga was presented with a plaque inscribed with the words" "In recognition of her dedication and service to the betterment of the Ōtaki Gazbos." She also received a life membership badge, worn only by four other members – Doug Garrity, Kevin Coldstream, Trevor Hosking and Donald Whiterod. She is the first woman to receive the honour.
Club secretary Doug Garrity said the award was well deserved.
"Hinga has been with the club for 20 years and has been on the committee for approximately 15 of those years," Doug says. "She's one of those people who helps out wherever it's necessary, from doing the Batons Up raffles and fund-raising to clean-ups, and supporting away trips."
An auction and charity bucket on the night raised $600 for prostate disease research and welfare, which was topped up to $1100 from Gazbos funds.