Duo at Stationhouse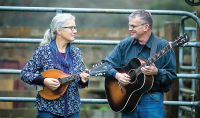 The duo of Dave Murphy and Janet Muggeridge, are special guests at The Stationhouse Social Club, Ōtaki Golf Club, on Thursday, March 4, hosted by The Salty Hearts band.
Dave is one of New Zealand's best finger-picking blues guitarists. He underpins the duo's sound with driving guitar work and powerful vocals. This is overlaid with Janet's mandolin riffs and chops, and an unerring sense of harmony.
Their sound is evocative and compelling. They cover blues, swing, and alt-country numbers with energy and musicality, drawing the audience in.
Dave's finger-style guitar will likely have your feet begging for rest, while Janet's unique mandolin adds sparkle and mood. Their two voices blend like a hand in glove, yet each stands out with its own individual character. Both are song writers, and sprinkle originals, Americana folk and blues through their repertoire.
The duo and Salty Hearts will play a set each and there will be the usual Big Ugly at the end with The Salty Hearts for a slightly unrehearsed but fun musical finale
A two-course buffet will be provided by Kiwi Kai Caterers, who tour the country with The Pink Floyd Experience.
n Ōtaki Golf Club, 6.30–9pm Thursday March 4. Tickets $45pp, includes two-course buffet – email gregandanje@xtra.co.nz, or buy at Ōtaki Golf Club or Ōtaki Travel.