News
Otaki Today
The Ōtaki community and the Ōtaki Volunteer Fire Brigade rallied recently to help out little 3-year-old Max Tamakaha, who's battling cancer.
The brigade put on a disco for kids at the Rāhui Rugby Club on September 16 and raised more than $2000 for Max. The funds will support the family that has had to live on one income to look after Max, as well as continue parenting sister Ellah, 2.
The nature of the Max's illness was apparent when he became unwell on the day of the diso and had to be rushed to Palmerston North Hospital.
It meant he and his nanny and koro, Michelle Tamakaha and Geoff Gutschlag (who have legal guardianship of the children) missed an event they were all looking forward to. However, Geoff says they appreciated the efforts of the brigade and the community that's helping to support them through difficult times.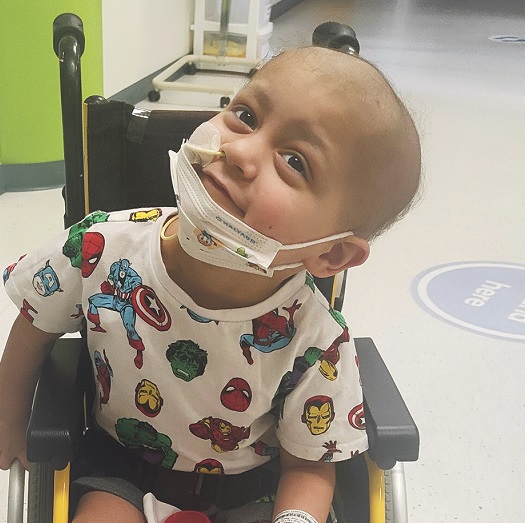 When Geoff spoke to Ōtaki Today from Starship Hospital in Auckland, Max was undergoing the 12th of 14 rounds of chemotherapy.
Geoff said Max's prognosis was good, but he would have hospital visits and check-ups "probably for the rest of his life".
Max was diagnosed with a rare bone cancer in February of this year, not long after his third birthday.
When the whānau first found out that Max could have the cancer in his left femur, the first week was spent in Palmerston North Hospital where blood tests and CT scans were done. After the results were sent to Starship, the paediatric and oncology team wanted him there immediately.
There were more tests with X-rays, heart scans, CT scans, MRI, bone biopsy, bone marrow biopsy and lots of blood tests. The results showed he the rare Ewing's sarcoma. It's a cancer mostly found in children under the age of 10. Fewer than six cases a year are found in New Zealand.
Ewing's is a bone cancer that spreads quickly. If Max had not been treated immediately the outcome more than likely would have been fatal.
It had already invaded Max's left leg to the extent that he needed a 10-hour operation called rotation plasty. He had the femur removed from his hip to just below his knee, then had the lower part of his leg and foot reattached at his hip and rotated 180 degrees – the heel faces forwards and the toes backwards.
Max's heel will act as his knee, allowing him to be fitted with a prosthetic limb. He is believed to be the youngest person in New Zealand to have the surgery.
With no more complications along the way Max will look to complete chemotherapy in November, get his prosthetic limb and start rehabilitation early in 2023.
Geoff says Max is a fighter and a strong-minded individual with determination and strength.
"Along with the aroha from whānau and friends, we will get through and beat this disease that Max has been handed," Geoff says. "Through it all, our wee man still manages to smile and is always telling us how fast he is going to run when he gets his new leg."
The disco fundraiser on September 16 was the second organised by the fire brigade. Last year it helped support the family of another local boy with cancer, Liam Paroli, 10.
This year about 200 school students and their whānau attended.
The fire brigade fundraiser was supported by sponsors Koastal Kerbs, Farm Source, Ōtaki New World, Kāpiti Pak n Save, Rāhui Rugby Club and Dayna's Kitchen.