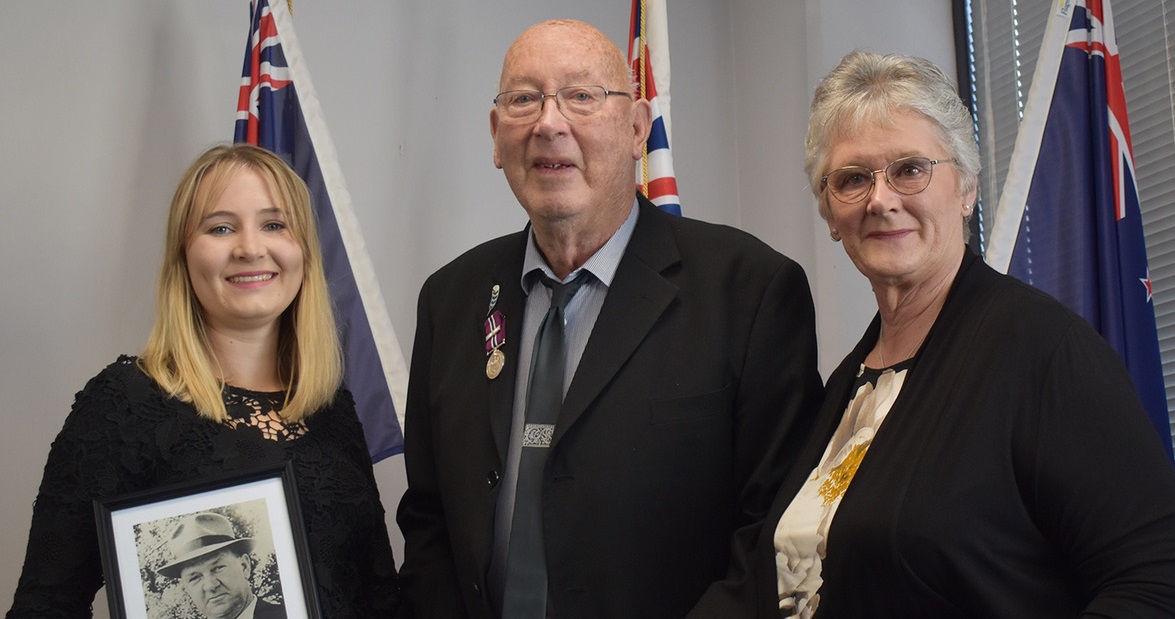 News
Otaki Today

Ōtaki police sergeant William (Bill) Hughes died in a 1951 mass murder, defending a local family from a gunman – now he's finally received recognition for his bravery.
That it has taken so long for recognition was acknowledged at a ceremony in Palmerston North 70 years to the day of the murders that happened on May 27, 1951. At Manawatū Police Headquarters, Bill Hughes' family was given the Police Commissioner's Gold Merit Award.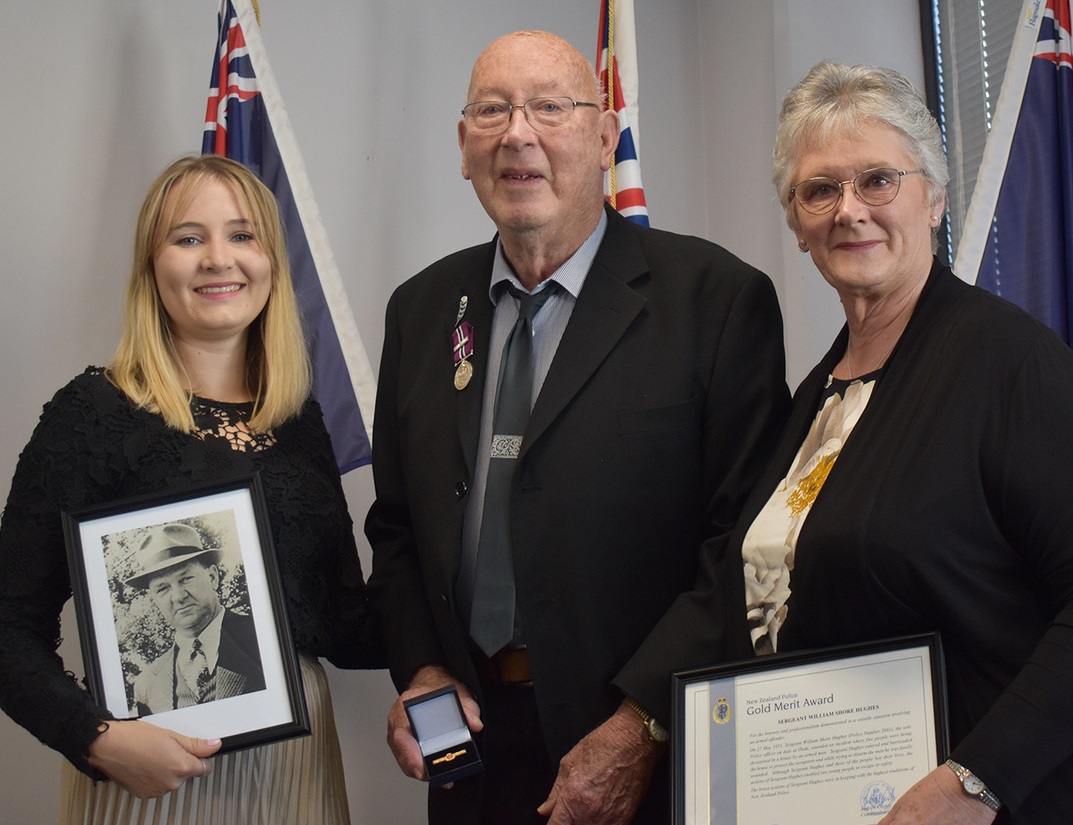 The sergeant died after responding to reports of shots at a shack near where Ōtaki College is now. Enraged gunman Raana Rika, a carver who had arrived in Ōtaki from Rotorua a year or so before, went on to kill Mary Te Hiwi and her daughters, Victoria, 16, and Pearl France, 22. He then took his own life.
Armed only with a police issue revolver, the sergeant was no match for Rika, who had stolen a shotgun and ammunition from an adjoining building. However, he bravely defended the family, even after being shot in the forearm, making it difficult to use his pistol.
If not for his intervention, it's possible two visiting local children – Kare Gilbert, 14, and his sister, Leonie Gilbert (later Raika), aged 16 – would also have died. They managed to escape.
The award for Sergeant Hughes should have been much higher than that received last month. And it was only the detective work of Police Museum director Rowan Carroll that it was awarded at all.
"The more I looked into his death the more I felt that his bravery was exceptional, and yet he never received a bravery award," Rowan says. "Other slain-on-duty officers had received the highest posthumous accolades: Detective Constable Duncan Taylor received the New Zealand Bravery Medal in 2002, Sergeant Stewart Guthrie received the George Cross in 1990, and Senior Constable Peter Umbers the George Medal also in 1990.
"In 1963, Detective Inspector Wally Chalmers and Detective Sergeant Neville Power were awarded the Queen's Police Medal for Gallantry. These were all good men performing brave deeds that cost them their lives. But was Sergeant Hughes' bravery any less?"
The June 1951 Police Journal said: "Sergeant Hughes laid down his life in the face of a most determined armed offender. Few acts of heroism and a high sense of duty in endeavouring to save life has stirred the public more deeply than that which took place at Otaki on Sunday last, when Police Sergeant William Shore Hughes was killed trying to protect three women from a savage attack."
So why was an award for Bill Hughes overlooked for so long?
The police say one reason was that his death coincided with the 1951 waterfront strike, the biggest industrial confrontation in New Zealand's history. It required vast police resourcing, drawing from a pool of only 1600 throughout New Zealand. In fact, Bill Hughes' constable at Ōtaki, Archie Hobbs, to his deep regret was working at the Wellington waterfront when the killings occurred.
Clearly, the police hierarchy had their minds on other things at the time.
Also conspiring against recognition was the untimely death in 1952 of Police Commissioner John Bruce Young, who would most likely have put forward a recommendation for bravery. However, with Police Headquarters overwhelmed, no bravery awards were presented between 1950 and 1952.
Put simply, no one put the Royal Warrant forward. Royal honours for bravery have a five-year statute of limitations, so after 1956, there was no chance Bill would receive the award to which he was probably entitled.
The highest award now possible – albeit 70 years later – was the Commissioner's Gold Merit Award for Bravery.
The award was received by Bill Hughes's son, Graeme Hughes, Bill's granddaughter, Shelley Hughes, and great-granddaughter Alice Boyd. They were gracious in their acceptance, though still sad that Bill's wife, Estelle, and Graeme had to move out of their Iti Street police house within two weeks of the murder.
The dead officer was no longer a member of the police, so the house had to be vacated. There was also no police support for the family when they moved to Auckland, where they had to rely on a benevolent uncle to provide housing.
Despite all that, the family was pleased that Bill Hughes had finally been acknowledged.
"It was a moving ceremony that brought back many sad memories for Dad, but we were happy that his father has finally received an award that acknowledged his bravery," Shelley told Ōtaki Today.
"We're all very proud of what he did."
• The full story of what happened that day in 1951 is in the 2020 issue of historical magazine Ōtaki Yesterday, available for $25 from Debbi at ID Media – 027 285 4720 or 06 364-6543)